White House Press Secretary Breaks Down in Tears Over State Laws Banning Child Sex Change Operations
Chris Menahan
InformationLiberation
Apr. 21, 2022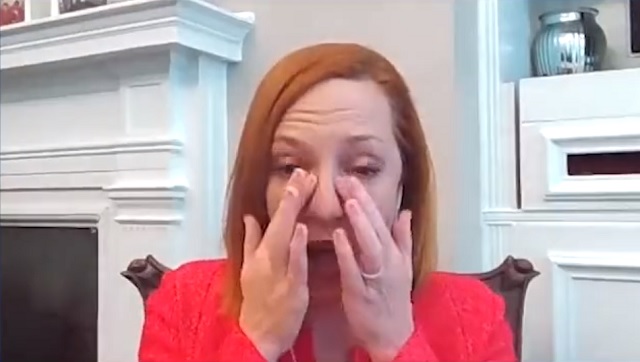 White House press secretary Jen Psaki broke down into tears over Republican states banning children from undergoing sex change surgeries.


"This is a political wedge issue and an attempt to win a culture war," Psaki said during an interview on Tuesday, referencing various Republican states' anti-transgender-mania laws. "And they're doing that in a way that is harsh and cruel to a community of kids."

"Ahh I'm going to get emotional about this issue -- because it's horrible," Psaki cried. "But it's like kids who are bullied and all these leaders are taking steps to hurt them and hurt their lives and hurt their families."

Psaki said earlier this month that sex change surgeries for children are "life saving" and threatened that the Department of Justice will hold states "accountable" for supposedly violating the Constitution by banning the macabre procedures.


Psaki insisted that all major medical associations agree that giving children sex changes and cross-sex hormones is "best practice" and "potentially life saving."

Follow InformationLiberation on Twitter, Facebook, Gab, Minds and Telegram.