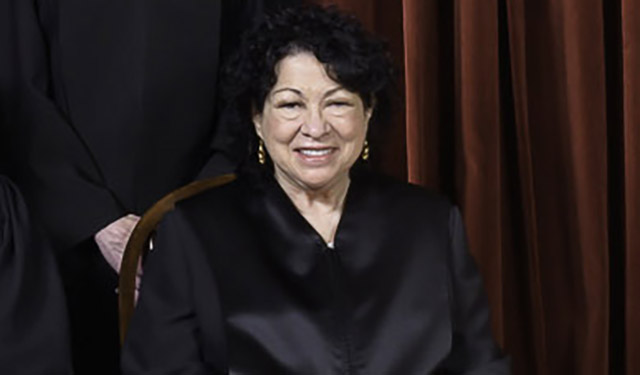 Supreme Court justice Sonia Sotomayor wrote a dissent on Monday arguing that anyone who is familiar with FBI crime stats must be banned from Capital case juries for "racial bias."

She was backed in her dissent by Justice Kagan and retiring Justice Breyer.

Steve Sailor posted highlights from Sotomayor's dissent as shared by the Supreme Court:

Cite as: 596 U. S. ____ (2022) 1
SOTOMAYOR, J., dissenting
SUPREME COURT OF THE UNITED STATES
KRISTOPHER LOVE v. TEXAS
ON PETITION FOR WRIT OF CERTIORARI TO THE COURT OF CRIMINAL APPEALS OF TEXAS
No. 21–5050. Decided April 18, 2022
The petition for a writ of certiorari is denied.

JUSTICE SOTOMAYOR, with whom JUSTICE BREYER and
JUSTICE KAGAN join, dissenting from the denial of summary vacatur.

[...] The seating of a racially biased juror, therefore, can never be harmless. As with other forms of disqualifying bias, if even one racially biased juror is empaneled and the death penalty is imposed, "the State is disentitled to execute the sentence," Morgan v. Illinois, 504 U. S. 719, 729 (1992).

In this case, petitioner Kristopher Love, a Black man, claims that one of the jurors in his capital trial was racially biased because the juror asserted during jury selection that "[n]on-white" races were statistically more violent than the white race. […]
"You'll notice that Justice Sotomayor capitalizes 'black' but uses lower case for 'white,' which proves she's not racially biased," Sailor commented.

In 2018, a jury convicted Love of capital murder in the course of a robbery that occurred in 2015. Prior to trial, prospective members of the jury filled out a questionnaire that included the following questions:

"68. Do you sometimes personally harbor bias against members of certain races or ethnic groups?

"69. Do you believe that some races and/or ethnic groups tend to be more violent than others?"

To the first question, No. 68, the prospective juror at issue answered, "No." But to the second question, No. 69, he answered, "Yes." He explained that "[s]tatistics show more violent crimes are committed by certain races. I believe in statistics."

During the voir dire proceeding that followed, both Love and the State questioned the prospective juror about his response to question No. 69. He explained that he understood "[n]on-white" races to be the "more violent races." He claimed that he had seen statistics to this effect in "[n]ews reports and criminology classes" he had taken.

He stated that his answer to question No. 69 was based on these statistics, rather than his "personal feelings towards one race or another," id., at 107, and he indicated that he did not "think because of somebody's race they're more likely to commit a crime than somebody of a different race,"

He told defense counsel that he would not feel differently about Love "because he's an African American."

Following the examination, Love's counsel moved to exclude the prospective juror for cause based on "his stated beliefs that . . . non-whites commit more violent crimes than whites." Counsel argued that, under Texas law, the first issue the jury would have to decide at sentencing (referred to as Special Issue No. 1) was "whether there is a probability that the defendant would commit criminal acts of violence that would constitute a continuing threat to society." Counsel explained that "leaving this man on the jury would be an invitation to leaving someone on there that might make a decision on Special Issue No. 1 that would ultimately lead to a sentence of death on his preconceived notions and beliefs that have to do with the race of the defendant."

The trial court denied defense counsel's challenge for cause without explanation. [...]

At the conclusion of the trial, the jury convicted Love. At sentencing, the jury unanimously concluded that there was a sufficient probability that Love would commit future violent crimes and that there were not sufficient mitigating circumstances to warrant a sentence of life. Accordingly, the trial court sentenced Love to death.

On appeal, Love argued that he was "denied the constitutional right to an impartial jury" because the trial court seated a "racially biased juror." [...]

Over time, we have endeavored to cleanse our jury system of racial bias. One of the most important mechanisms for doing so, questioning during voir dire, was properly employed here to identify a potential claim of bias. Safeguards like this, however, are futile if courts do not even consider claims of racial bias that litigants bring forward. The task of reviewing the record to determine whether a juror was fair and impartial is challenging, but it must be undertaken, especially when a person's life is on the line. I would ensure that Love's claim is heard by the Court of Criminal Appeals, rather than leave these questions unanswered. I respectfully dissent.
As we saw with Sotomayor's embarrassing performance earlier this year while arguing in favor of vaccine mandates, she's not very good with statistics.

Follow InformationLiberation on Twitter, Facebook, Gab, Minds, Parler and Telegram.