San Francisco Resident Films Looters Selling Goods From Car Break-Ins At Open Air Market
Chris Menahan
InformationLiberation
Apr. 19, 2022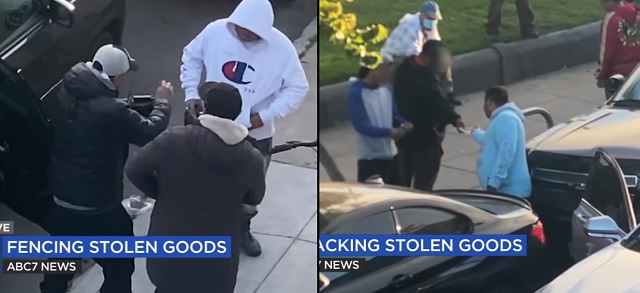 Criminals in San Francisco are able to steal people's property and sell it within minutes at an open air market in the Mission District with police and City Hall doing nothing to stop them.

This video from local ABC affiliate KGO watches like a comedy.

WATCH:



From KGO, "Fencing operation video shows what happens after car break-ins":

We're getting a firsthand, overhead look at a fencing operation for stolen goods, showing what happens after all those car break-ins we've been highlighting at ABC7 as part of our campaign to build a better Bay Area. One very frustrated San Francisco resident brought his complaints and his video to the I-Team's Dan Noyes. [...]

Week after week, month after month, he has watched stolen goods being bought and sold right outside his window. He reported it to police more than seven months ago but heard nothing [...]

[Captain Gavin McEachern of the San Francisco Police Department] also told us about one obstacle to catching those who break into cars - the SFPD does not allow high speed pursuits for property crimes, and the criminals know that. They often just speed off, free to break into more cars at another time and place.

Hillary Ronen, a supervisor for the Mission District, shared her cockamamie plan to try and tackle the issue with KGO:

Ronen has a plan that, she says, would stop the Garfield Square fencing operation and the Mission's street vendors who sometimes sell items stolen from the city's groceries and drug stores -- a permit system enforced by the Department of Public Works.

She told the I-Team, "If they don't have a permit, then DPW can confiscate their goods and say you can't sell."

Ronen admits she and Mayor London Breed did not consult the police while coming up with the new law.

Noyes: "Were the police involved in that process?"
Ronen: "No, there weren't."
Noyes: "Why not?"
Ronen: "Because we want police focused on the bigger issues on the violent crimes. And we, this is so widespread and doesn't need them."
You can't help but laugh.



Follow InformationLiberation on Twitter, Facebook, Gab, Minds, Parler and Telegram.