EU Moves to Sanction Hungary For Voting The Wrong Way in Sunday's Election
Chris Menahan
InformationLiberation
Apr. 06, 2022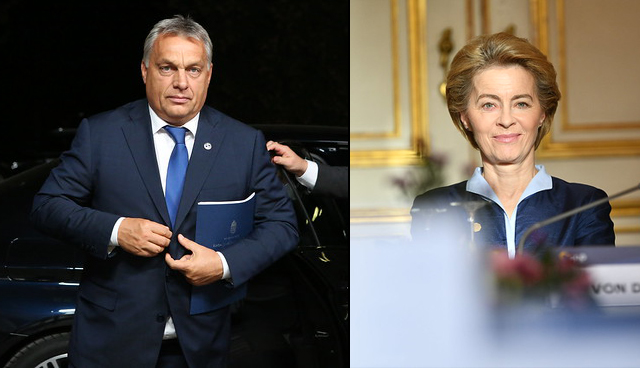 Less than 48 hours after Hungarian Prime Minister Viktor Orban was reelected in a landslide, the EU announced they're going to trigger a never-before-used mechanism aimed at cutting tens of billions of euros in funding to Hungary for violating so-called "democratic norms."




From Politico, "EU launches process to slash Hungary's funds over rule-of-law breaches":

The European Commission will soon trigger a powerful new mechanism to cut funding to Hungary for eroding the bloc's rule-of-law standards, Commission President Ursula von der Leyen said Tuesday.

The announcement comes two days after Hungarian Prime Minister Viktor Orbán won a fourth consecutive term in an election that international observers said was marred by an uneven playing field benefiting the ruling Fidesz party. It's a theme that has played out over Orbán's decade-plus in power, during which civil liberties groups say the Hungarian leader has gradually taken control of democratic institutions and funneled taxpayer money to friends and family.

Von der Leyen said her team informed Hungary of its decision on Tuesday after reviewing Budapest's responses to an informal letter the Commission sent last November asking for information on its rule-of-law concerns.

"We've carefully assessed the result of these questions," von der Leyen said, speaking to the European Parliament. "Our conclusion is we have to move on [to] the next step."

Hungary is the first country to face proceedings under the new power, which gives the EU the authority to cut millions in EU payouts to countries where it determines rule-of-law breaches are putting the bloc's budget at risk. The Commission's decision to move ahead could signal a turning point in Brussels' willingness to go after wayward members accused of corruption and democratic backsliding.

[...] Responding to von der Leyen's announcement, Minister Gergely Gulyás -- who serves as Orbán's chief of staff -- chastised Brussels to the Hungarian media, saying the EU was essentially punishing Hungarian voters for their democratic choices.
"Poland was the top beneficiary of E.U. aid in the 2014-2020 budget, receiving 104 billion euros, or $118 billion," the Washington Post reports. "Hungary, whose population is about a quarter of the size of Poland's, received 40 billion euros, or $45 billion."

Nothing says "democracy" quite like putting sanctions on an ally for voting the wrong way in a democratic election!

[Header image left by Annika Haas/EU2017EE, image right by EPP, both CC BY 2.0]

Follow InformationLiberation on Twitter, Facebook, Gab, Minds, Parler and Telegram.