Indy Journalist Interviews "Ukrainian Refugees" Seeking Asylum in Ireland
Chris Menahan
InformationLiberation
Mar. 28, 2022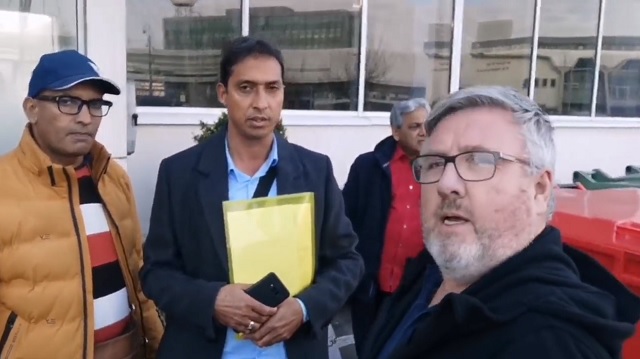 Independent journalist Philip Dwyer interviewed a group of "Ukrainian refugees" last week as they arrived in Dublin, Ireland and found a group of middle-aged men from Kashmir who appeared to lie about their age.

"Were you not asked to stay and fight for Ukraine?" Dwyer asked the group.

"No, uh, 'cuz we are 60 years now," the self-described Kashmir man in the center without a gray hair on his head claimed.

"You're 60 years old?" Dwyer scoffed.

"Yeah, we are old!" the man responded.

"You're very young looking for your age," Dwyer said.

"Oh, thank you," the man said, smiling from ear-to-ear.


Full video:



Dwyer was forced to leave the airport by police.

Irish officials said last week they want to take in as many as 200,000 "refugees" fleeing the war in Ukraine. Ireland's total population is under five million.

The French news outlet Le Figaro reported earlier this month that around 1 out of 3 "refugees" arriving in France were not Ukrainian but instead came in from "Africa and the Middle East."

"The newspaper reveals that 7.5 percent are of Algerian nationality, while 3.5 percent of arrivals are from the Ivory Coast and Morocco respectively," Remix reported, citing Le Figaro report in French. "Indians and Kyrgyzstan nationals are next on the list at 2.5 percent apiece, while other nationalities arriving include the Democratic Republic of Congo, Cameroon, Pakistan, Nigeria, and China."

Follow InformationLiberation on Twitter, Facebook, Gab, Minds, Parler and Telegram.