Foreign Policy Columnist Theorizes Putin Isn't 'Thinking Properly' Due to 'Long Covid'
Chris Menahan
InformationLiberation
Feb. 24, 2022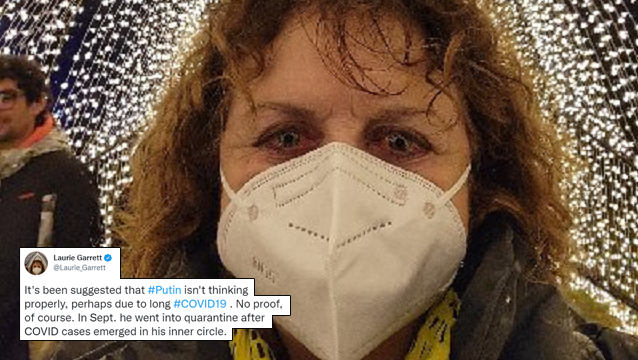 Foreign Policy columnist Laurie Garrett, a Pulitzer Prize recipient and former CFR senior fellow, is advancing a bats**t crazy conspiracy theory that Vladimir Putin is losing his mind due to "long covid."

"It's been suggested that Putin isn't thinking properly, perhaps due to long COVID19," Garrett tweeted Thursday. "No proof, of course. In Sept. he went into quarantine after COVID cases emerged in his inner circle."

"By October #Putin had disappeared," she continued. "There was widespread speculation that he was sick with #COVID19."

"In recent [Council on Foreign Relations meeting] Putin experts said his behavior and statements are 'off' and 'not right,' suggesting he's suffering the brain fog induced by COVID19," Garrett said. "No way to confirm. But much of his army is surely infected, even sick."

"In 1918 Influenza swept a word at war, infecting soldiers hunkering in trenches across Europe. Pres Woodrow Wilson got flu & it affected his thinking & behavior so much that White House staff worried he couldn't handle WWI treaty negotiations."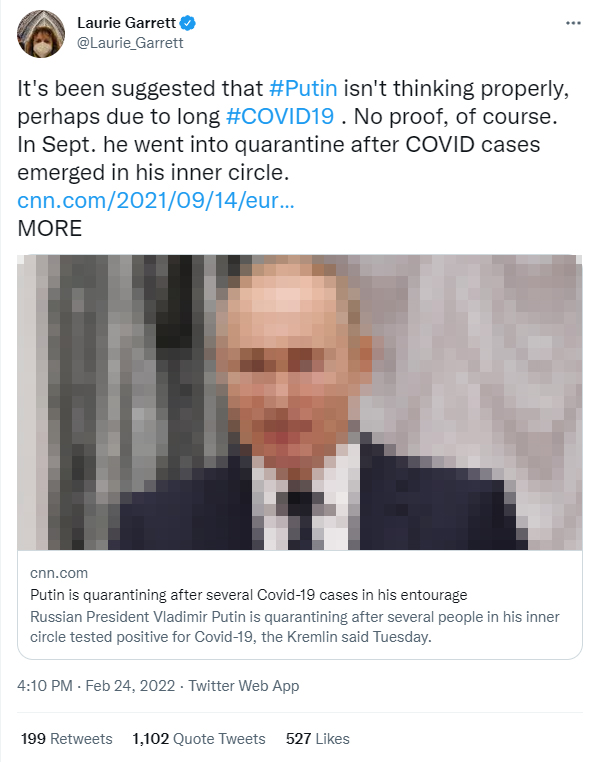 [Update: Garrett deleted the first tweet in her thread.]





Someone in this story is clearly suffering from mental problems but it ain't Putin.


He stated his motivations as clear as day in a speech he gave before launching his invasion.

Our elites refused to listen to it or read it because it was "too long."





If Putin succeeds in taking Ukraine in just three days as Army Gen. Mark Milley predicted, it will be an absolutely massive military achievement and yet another humiliation for our globalist oligarchs and their CFR puppets.

UPDATE: Garrett on Friday deleted the first post in her thread because "too many people misinterpreted what I was saying that I felt it was doing more harm than good."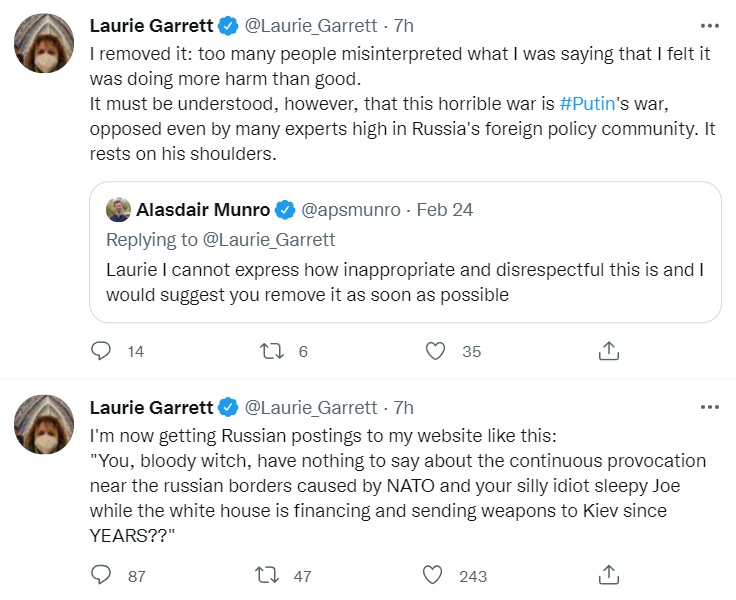 Follow InformationLiberation on Twitter, Facebook, Gab, Minds, Parler and Telegram.