"Your Animal Will Be Considered Relinquished": Ottawa Police Threaten Protesting Truckers' Dogs
Chris Menahan
InformationLiberation
Feb. 17, 2022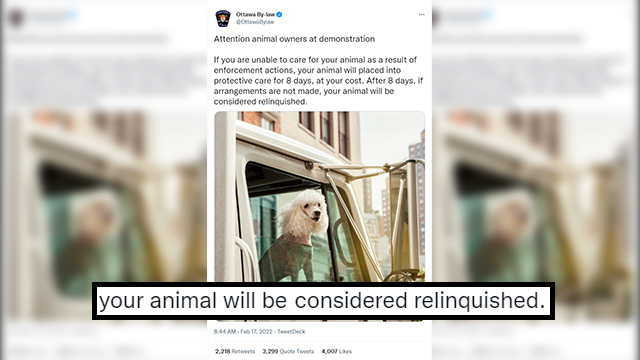 Ottawa Police on Thursday issued an ominous statement threatening Freedom Convoy protesters that if they're placed under arrest their animals "will be considered relinquished" if they can't make arrangements from prison to have them rescued within 8 days.

"Attention animal owners at demonstration," Ottawa Police tweeted. "If you are unable to care for your animal as a result of enforcement actions, your animal will placed into protective care for 8 days, at your cost. After 8 days, if arrangements are not made, your animal will be considered relinquished."


Prime Minister Justin "Tinpot" Trudeau invoked a War Powers act last week allowing the state to jail peaceful protesters for up to one year in prison and fine them up to $100,000 (CAD).

If owners are unable to rescue their pets due to being imprisoned for potentially an entire year for peacefully protesting, there's a good chance their dogs will be euthanized.

Follow InformationLiberation on Twitter, Facebook, Gab, Minds, Parler and Telegram.