Australian Govt Cancels Novak Djokovic's Visa For A Second Time, Threatens to Deport Him Once Again
Chris Menahan
InformationLiberation
Jan. 14, 2022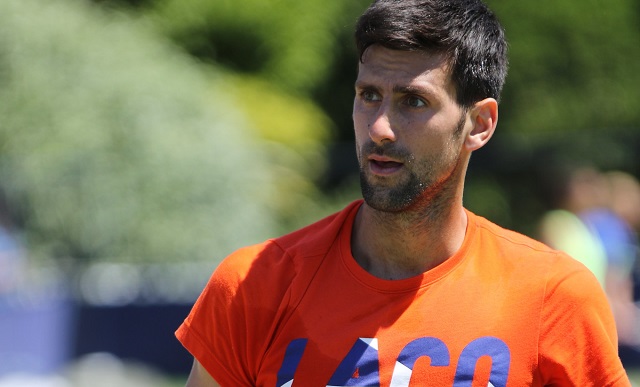 The Australian government decided to revoke the visa of pureblood rank one tennis champion Novak "No-Vax" Djokovic once again on Friday with an immigration minister claiming "it was in the public interest to do so."



From BBC, "Novak Djokovic: Australia to detain tennis star after visa cancelled":

Novak Djokovic is set to be detained on Saturday after Australia cancelled his visa for a second time, in a row over his right to remain in the country unvaccinated.

The decision on "health and good order" grounds means he faces deportation and a three-year visa ban.

Djokovic's lawyers called the decision "patently irrational" and will appeal.

The men's tennis number one is still scheduled to play in the Australian Open in Melbourne on Monday.

"Today I exercised my power... to cancel the visa held by Mr Novak Djokovic on health and good order grounds, on the basis that it was in the public interest to do so," Immigration Minister Alex Hawke said in a statement.

Prime Minister Scott Morrison said the decision followed "careful consideration".
They carefully considered whether it would make them look good politically.


As the media apparently successfully managed to incite the public against him the answer was yes.

Alluding to the heavy criticism his government has faced for allowing the unvaccinated player into Australia, Mr Morrison said: "Australians have made many sacrifices during this pandemic, and they rightly expect the result of those sacrifices to be protected."

Serbian President Aleksandar Vucic condemned the move, telling the 34-year old in an Instagram message: "Novak, we we stand by you".

"If you wanted to ban Novak Djokovic from winning the 10th trophy in Melbourne why didn't you return him immediately, why didn't you tell him 'it is impossible to obtain a visa'?" Mr Vucic added.

[...] Djokovic's legal team called the minister's decision to cancel the visa "patently irrational".

Citing a government document with more details on why it was revoked, Djokovic's lawyer, Nicholas Wood, said it was not because he is a danger to the public, but because "he will excite anti-vax sentiment".

Although Djokovic is not vaccinated, he has not actively promoted anti-vax disinformation. However, Australian anti-vaxxers have been using the hashtag #IStandWithDjokovic on social media.

Mr Wood added that the minister had chosen to "remove a man of good standing" from Australia and "impair" his future career over anti-vaccination comments Djokovic had made in 2020.
We the government of Australia find you guilty of immigration violations for "exciting anti-vax sentiment" because "anti-vaxxers" used the hashtag #IStandWithDjokovic on social media.

"The punishment for deportation is high, especially for an athlete who competes in tournaments throughout the country," Newsweek reports. "Should that happen to Djokovic, he could be prohibited from entering Australia for up to three years due to sanctions, which would be a blow given his history of winning at the Open."

As I said previously, the only question is does he have covid right now and is he contagious.

The answer is clearly no, so they're just pulling excuses out of their ass to have him deported out of spite.

[Header image by Andrew Campbell via Flickr, CC BY-SA 2.0]

Follow InformationLiberation on Twitter, Facebook, Gab, Minds, Parler and Telegram.