Tucker Carlson on Monday night highlighted how multiple states are now systematically denying white people covid medical treatments in the name of "equity."

"They call this equity," Carlson said. "It's not equity. It is collective punishment ... It's the definition of evil."

WATCH:



Partial transcript via Fox News:

Health care for all? That was the slogan for generations. The new slogan under the Biden administration was health care for favored groups. And those policies continue tonight. They're illegal, they're immoral. And yet they are all but ignored by the media and, by the way, by Republican lawmakers.

Several weeks ago, for example, the Food and Drug Administration released a fact sheet on a monoclonal antibody called sotrovimab. Sotrovimab is, at this point, the only monoclonal antibody treatment that has proven effective against the latest variant of the coronavirus. The FDA provided guidance for physicians in all 50 states, telling them how to determine which patients should get this critical treatment. Physicians, the FDA explained, should consider quote race and ethnicity as they administer treatments, and so physicians are doing that across the country.

In Utah, COVID patients are triaged by a scoring system that determines whether they qualify for these potentially life-saving antibody treatments. If you look at the scoring system, you'll notice that race often counts more than physical health. The state of Utah, for example, gives two points to anyone simply for not being White. You win if you're not White. If you have congestive heart failure at the same time, you get one point. So if you're a White, congestive heart failure patient, that's not enough for you.

It's the same story in Minnesota. Minnesota awards to point to so-called BIPOC patients. That means anyone who's not White. If you have high blood pressure and you're 60 years old, you get one point. So tough luck for you. Imagine if that was one of your parents. It is one of someone's parents.

In New York, writes Aaron Sibarium in a shocking new piece for the Washington Free Beacon, "Racial minorities are automatically eligible for scarce COVID-19 therapeutics, regardless of age or underlying conditions." It doesn't matter what kind of health they're in. All that matters is their skin color. Whites don't qualify.


This is not health care, it's punishment, it's punishment meted out on the basis of skin color. Now the justification for all of us, and the authorities could not be clearer about it, they've taken their ideas directly from America's colleges, they'll tell you why they're doing this, the justification is history. The United States has mistreated racial minorities in centuries past, they say. Therefore, Whites must suffer now. So your ancestors did bad things or people who looked like your ancestors did bad things. So now we're withholding medicine from you. They call this equity. It's not equity. It is collective punishment. It's the North Korean standard. It's the definition of evil.

And in case you're wondering, that's actually what it is, consider this: A young Haitian man could cross our border illegally today. Many have. That person could show up at a clinic in New York tomorrow for COVID treatment and get preference over an elderly American citizen purely because of his appearance. Think about that. The Haitian has not suffered from systemic racism in America, whatever that is. He just got here. But he goes to the front of the line anyway.
The latest 2020 census found whites were 57.8% of the population and yet they make up 62.6% of covid deaths according to the CDC's National Center for Health Statistics.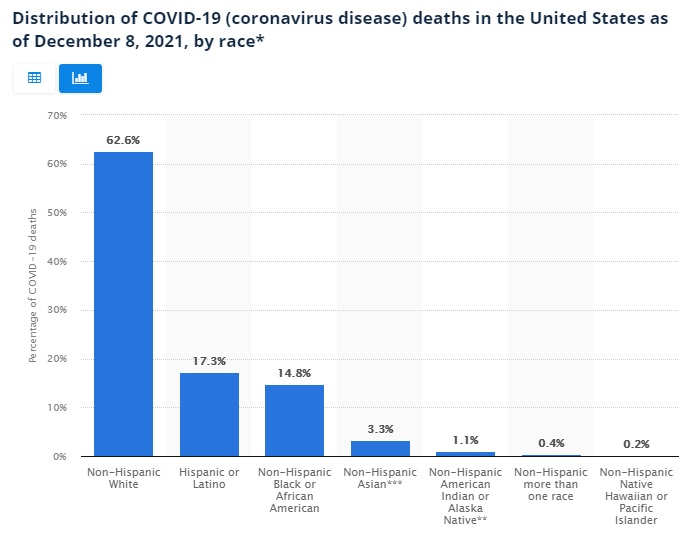 That means whites are being systematically discriminated against and denied covid medical treatments despite being overrepresented in covid deaths!

Follow InformationLiberation on Twitter, Facebook, Gab, Minds, Parler and Telegram.