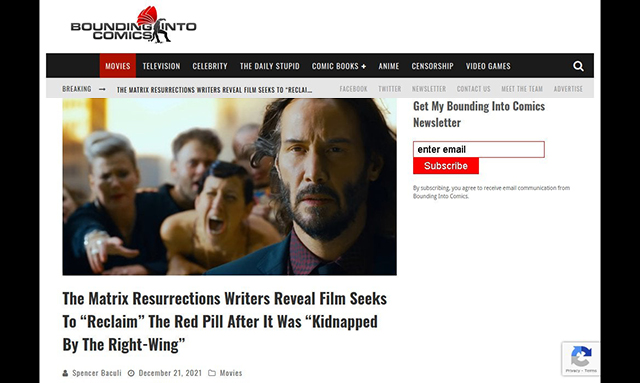 It turns out the left won't be "reclaiming the red pill," after all.

I guess popping all those blue pills (progesterone) didn't help get the creative juices flowing.

From Showbiz411:

"Matrix Resurrections" is DOA at the box office after 5 days with just $22.8 million. Maybe people are watching it at home on HBO Max, or trying to. On Rotten Tomatoes the audience interest is just 64%. The critics rating is 66. Where was the outcry for this film?

For [Lana] Wachowski this is the fifth clunker in 16 years. She and her sister (formerly brother, they used to be brothers so the films have different credits) wrote and produced "V for Vendetta" in 2006. Prior to that they made the real "Matrix" movies, which were big hits. But this now is just treading water, or drowning in it.
The only good Matrix film was the first and it was only good because they almost certainly stole the plot from Dark City after being given an advanced copy by a producer.



Dark City director Alex Proyas laid this out last year (skip to his interview at 4:58 above if you don't want spoilers) during an interview in 2020.



They took most of the plot, the aesthetics, many of the action scenes and even used his set.

The Wachowskis could never recreate what made the first Matrix special because they never created it in the first place.

Follow InformationLiberation on Twitter, Facebook, Gab, Minds, Parler and Telegram.