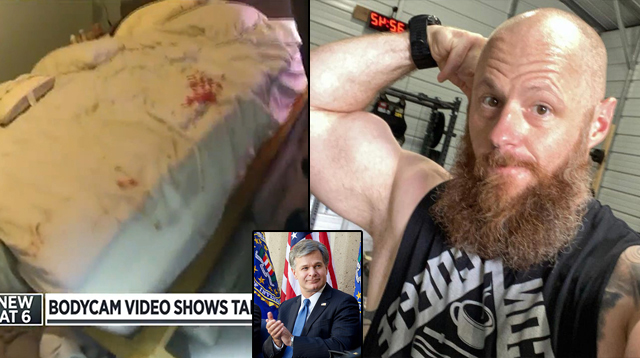 Richard Trask, the disgraced top FBI agent suspected of entrapping more than a dozen men in a "kidnapping plot" targeting Gretchen Whitmer, pleaded no contest on Monday to aggravated assault charges over allegations he beat his wife bloody after a swingers party.

A judge sentenced him to only two days of time served and no probation.



WATCH:





From Detroit News, "Ex-FBI agent in Whitmer kidnap plot enters plea in case tied to wife's assault":

Former FBI Special Agent Richard Trask, the lead investigator in the Gov. Gretchen Whitmer kidnapping conspiracy case, pleaded no contest Monday to aggravated assault charges stemming from allegations he beat his wife in July after returning home from a swingers party.

Trask entered the plea to the misdemeanor offense before Kalamazoo County Circuit Judge Gary Giguere, court officials said. He was sentenced to time served and ordered to pay court costs.

[...] An affidavit filed in July by the Kalamazoo County Sheriff's Office in Kalamazoo County District Court said Trask's wife had bloody lacerations to the right side of her head and "blood all over chest, clothing arms and hand," as well as "severe" bruising to her neck and throat following the alleged incident.

The former special agent had worked for FBI since 2011 and served as the FBI's public face in the Whitmer case, testifying in federal court about the investigation. He has worked on cases involving espionage, terrorism and domestic extremism investigations.

Trask, 39, of Kalamazoo, was the public face of the FBI in the Whitmer investigation. He testified in court proceedings for five men awaiting trial in federal court on a range of charges, including kidnapping and weapons of mass destruction conspiracies.
From WOOD, "Anti-Trump FB rant posted by FBI agent on Whitmer kidnapping case":

Trask, a former FBI agent who also coaches CrossFit, titled his 2020 diatribe against the former president "Toilet thought of the day," a heading he used for other Facebook rants as well.

"As someone whose wife works in the hospital I hope you burn in hell along with your d—–bag f—–g reality tv star," Trask wrote in the post. "His ego is going to kill a lot of people and anyone who supports that is a dumb–s. This is what you get when you elect an egotistical/narcissistic maniac to the top office. He needs people to be nice to him or he won't help. F–k you, do–he."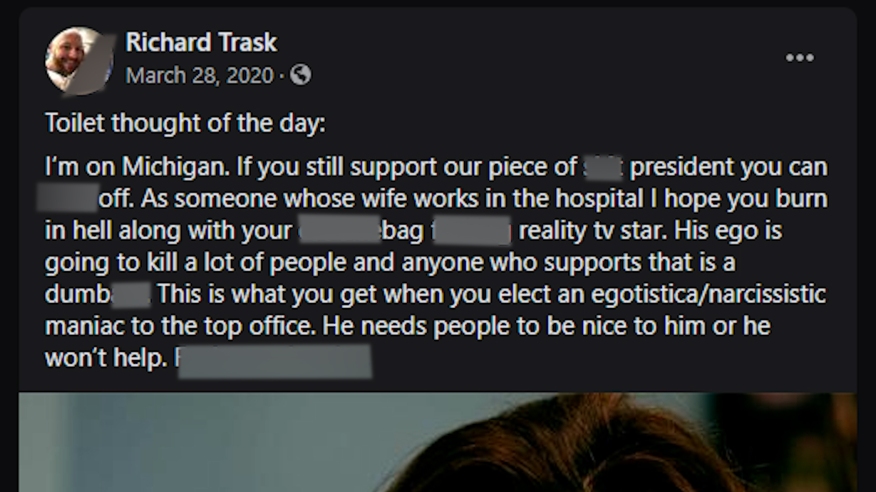 The tirade accompanied a link to a WWJ Newsradio story headlined "After Trump Attacks Whitmer, She Says Vendors Aren't Sending Desperately Needed Coronavirus Supplies."
The FBI was acting to boost Whitmer's political career and used this plot as an "October surprise" to try and tank Trump's reelection.

One of the suckers Trask allegedly entrapped, Ty Garbin, got six years in prison -- even though he sold his buds out and cooperated with the feds.

The others are all facing far longer sentences, despite Trask bowing out of the case in disgrace.

Follow InformationLiberation on Twitter, Facebook, Gab, Minds, Parler and Telegram.