De Blasio Says Huber And Rosenbaum 'Are Victims,' Rittenhouse Took Gun 'Across State Lines' And Started Shooting People
Chris Menahan
InformationLiberation
Nov. 19, 2021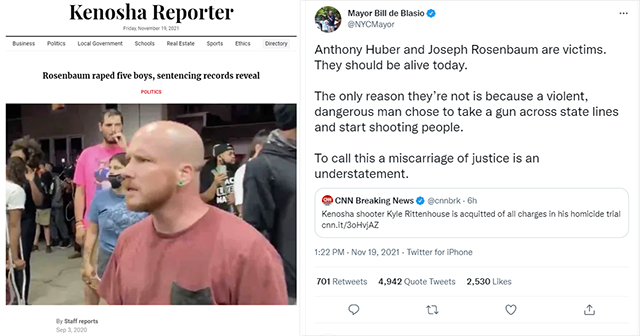 New York City mayor Bill de Blasio reacted to Kyle Rittenhouse being found not guilty on all counts Friday by declaring that serial child rapist Joseph Rosenbaum and domestic abuser Anthony Huber are "victims" and falsely stating Kyle took a gun across state lines.

"Anthony Huber and Joseph Rosenbaum are victims," De Blasio said. "They should be alive today."

"The only reason they're not is because a violent, dangerous man chose to take a gun across state lines and start shooting people," he continued, showing he hasn't followed the case. "To call this a miscarriage of justice is an understatement."


He came back an hour later to correct his tweet and accuse everyone criticizing him of being "far-right trolls."

"The far-right trolls who think it makes a difference whether a violent gunman got his weapon before or after he crossed state lines are missing the point: two people are dead and their killer is left unaccountable," De Blasio said. "That's not justice and they know it."


Add this to the defamation file for Kyle's upcoming sue-a-thon!


Follow InformationLiberation on Twitter, Facebook, Gab, Minds, Parler and Telegram.