MSNBC Banned From Kenosha Courtroom After Allegedly Stalking Rittenhouse Jury Bus, Producer 'Mass Deletes Social Media Accounts'
Chris Menahan
InformationLiberation
Nov. 18, 2021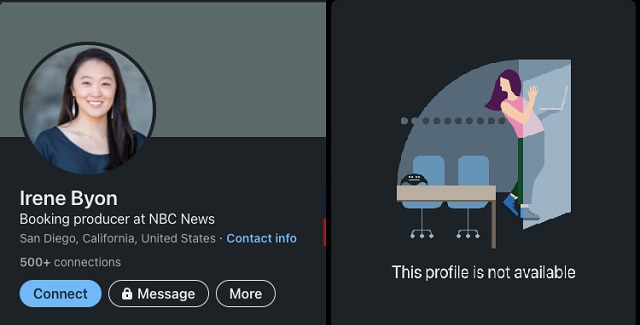 MSNBC was banned from entering the Kenosha courthouse where the Kyle Rittenhouse trial is taking place after someone who identified himself as an "employee" was detained for trailing a "sealed bus" full of jurors.


From RT:

The Kenosha, Wisconsin judge presiding over the Kyle Rittenhouse trial has banned MSNBC employees from his courthouse, after police caught someone claiming to be a producer with the outlet tailing a jury bus.

"I have instructed that no one from MSNBC news will be permitted in this building, for the duration of this trial," Judge Bruce Schroeder said on Thursday. Following a jury bus is an "extremely serious matter and will be referred to the proper authorities," he added.

Schroeder identified by name both the producer and his supervisor in New York, and said the man was detained by Kenosha police on Wednesday night, after he ran a red light in pursuit of a bus transporting the Rittenhouse jury.

Kenosha PD said that a person "alleging to be affiliated with a national media outlet" was "briefly taken into custody and issued several traffic related citations." They suspect that he was attempting to photograph the jurors, but there was "no breach of security regarding the jury, nor were there any photographs obtained."



According to MSNBC's parent company NBC, the man was "a freelancer" whose traffic violation "took place near the jury van," but the company insisted he "never contacted or intended to contact the jurors during deliberations, and never photographed or intended to photograph them."

"We regret the incident and will fully cooperate with the authorities on any investigation," NBC added.

The jury has been deliberating since Monday evening, under pressure from both national media coverage of the trial and protesters outside the courthouse demanding a conviction.

Rittenhouse, 18, was charged with murder and reckless endangerment for shooting three participants in the August 25, 2020 riot in Kenosha, two of them fatally. His attorneys argued he acted in self-defense and have moved for a mistrial, accusing state attorneys of prosecutorial misconduct in a matter related to video evidence.
How are you supposed to have a fair trial when the media spent a year prejudicing the public against the defendants and the jurors are being told there's going to be riots depending on how they rule?

A supposed "nephew" of George Floyd recently filmed himself openly threatened the jury and said he knows people who've been taking photos of them:


Now MSNBC appears to be doing similar.





MSNBC producer Irene Min Joo Byon reportedly started mass deleting her social media accounts:




Rittenhouse's actions were a clear cut case of self-defense and yet we're now on day three of deliberations without a verdict. That strikes me as a bad sign. We saw similar jury intimidation in the Chauvin case and we're now seeing similar in the Arbery case.

This is pure anarcho-tyranny.

Follow InformationLiberation on Twitter, Facebook, Gab, Minds, Parler and Telegram.