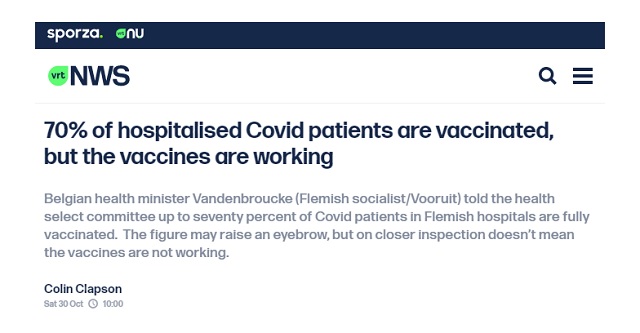 No need to worry though, the media says that means it's working!

From VRT NWS, "70% of hospitalised Covid patients are vaccinated, but the vaccines are working":

70% of hospitalised Covid patients are vaccinated, but the vaccines are working

Belgian health minister Vandenbroucke (Flemish socialist/Vooruit) told the health select committee up to seventy percent of Covid patients in Flemish hospitals are fully vaccinated. The figure may raise an eyebrow, but on closer inspection doesn't mean the vaccines are not working.

Colin Clapson
Sat 30 Oct 10:00

333 patients were in a Flemish hospital with Covid between 16 and 22 October. 70.9% were fully vaccinated. 29.1% were not. However, the facts still show that people with Covid who are unvaccinated end up in hospital more quickly than patients who are fully vaccinated. In Flanders over 90% of adults are fully vaccinated and this group is far larger than the group of unvaccinated people.
Note how they rounded 70.9% down for their headline to "70%."
Look at Belgium as a whole are the figure for the same period shows 54% of Covid patients in hospital were fully vaccinated, a reflection of the lower vaccination rates in some parts of the country.
They left it out of their article but the number of "fully vaccinated" in Belgium as a whole is supposedly 73.7% as of Oct 16, according to Our World in Data.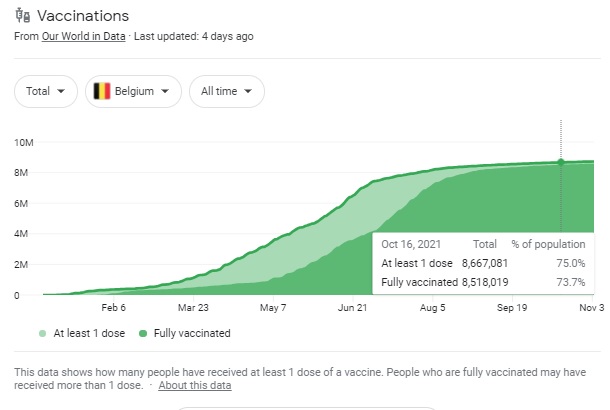 VRT NWS continues:

The figures also show that overall and compared with earlier waves fewer people are ending up in hospital when they catch Covid. The number of hospitalisations during the current fourth wave is markedly lower than during the three previous waves. Hospitalisations, admissions to ICUs and the number of patients on a ventilator are all far lower as this Sciensano chart shows.

A comparison between September/October last year and this year shows over 5.5% of cases ended up in hospital last year, whereas this year the figure hasn't exceeded 3.5%.

Steven Callens of Ghent University Hospital UZ explains why fully vaccinated people are ending up in hospital: "The delta variant is catchier. Corona measures were relaxed in October and protection against mild illness through vaccination does start to wane after six months".

Fully vaccinated patients in hospital are often older and may have underlying health issues.

"Few healthy vaccinated people end up in hospital. If they do, hospitalisation is shorter" says Callens. "In critical care many patients are not fully vaccinated".
Few healthy unvaxxed people end up in the hospital as well. They don't provide any source showing the vaxxed are on average more unhealthy.
Figures from the health minister show 60% of patients in Flemish ICUs are fully vaccinated, 40% are unvaccinated."
Note how they keep stating "fully vaccinated."

Here in America, the CDC defines "fully vaccinated" as two weeks out from your second shot. Most countries do similar.

That means if you have side effects from the first shot or the second shot and end up in the hospital up to two weeks after the second shot you'll be counted statistically as someone who is "unvaccinated."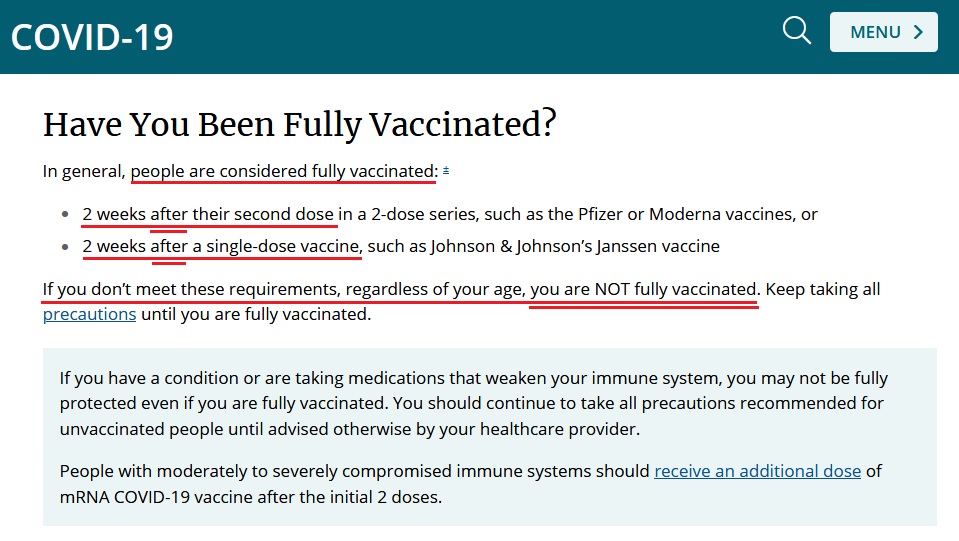 It's a very simple way to fix the numbers and count vaccine side effects as the supposed consequences of being "unvaccinated."

Regardless, the whole idea behind these shots from day one was that they were 90%+ effective at preventing you from getting covid, which has been admitted for months now to be completely false.


Next, the reason to get the shots evolved into them preventing you from being hospitalized, which is also now being shown to have been (at the very least) wildly exaggerated.

Remember how many times we were told "over 99%" of hospitalized covid patients were unvaxxed?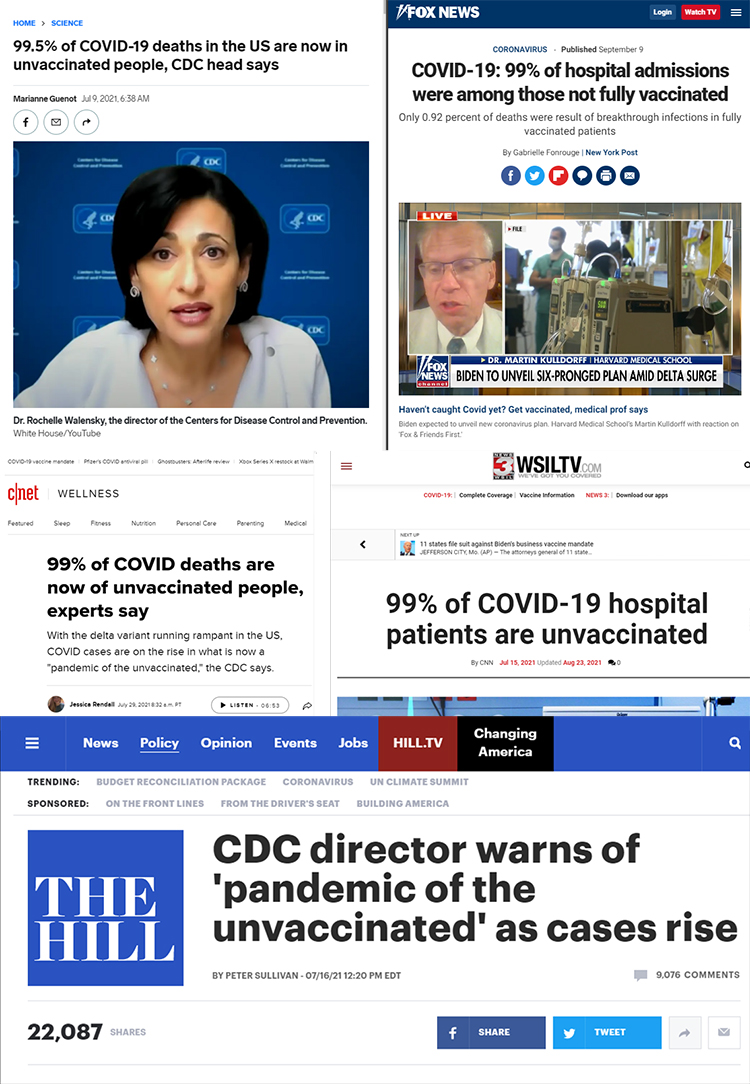 Is the CDC or any of the hundreds of news outlets which spread that falsehood ever going to issue a correction? (That's a rhetorical question, of course!)

Now they're down to claiming the vax may reduce your rate of hospitalization for 5 or so months at which point you're going to need another "booster," potentially in perpetuity.





Remember this gem?


We're probably just weeks away from governments being forced to admit the proportion of "vaxxed" to "unvaxxed" being hospitalized is close to equal and statistically meaningless.

An FDA panelist who signed off on boosters despite a total dearth of data already admitted they backed the additional shots based off "a gut feeling rather than based on really truly serious data."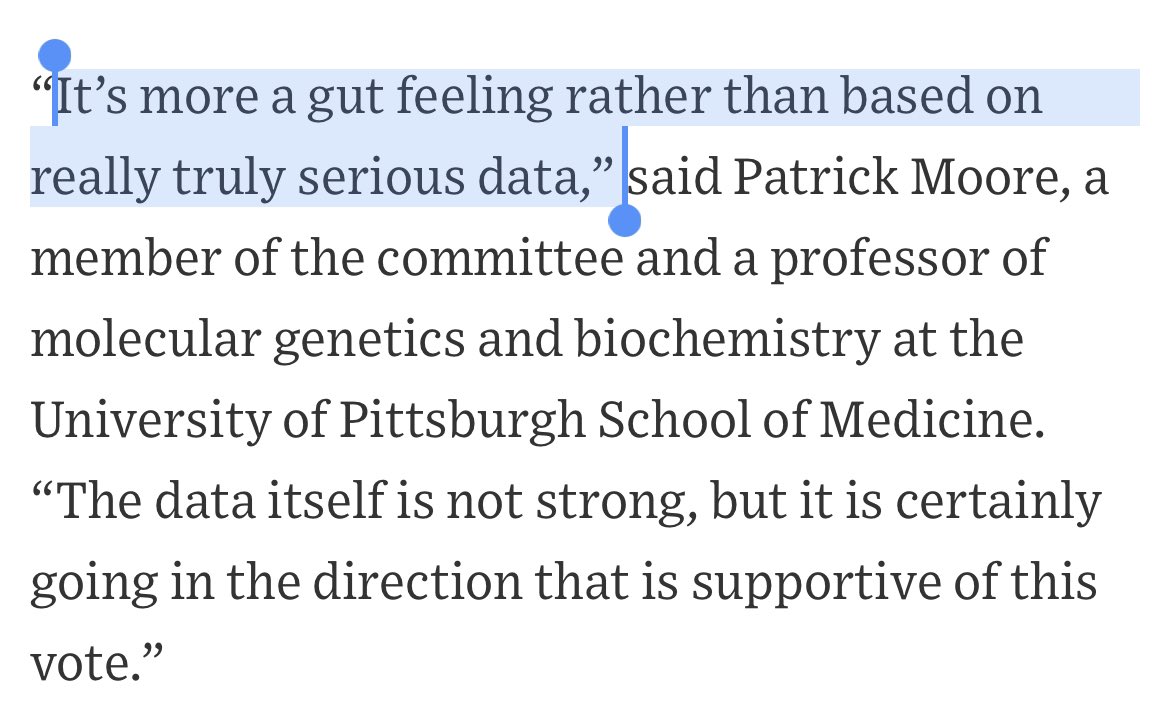 Panelist Dr Eric Rubin said before signing off on the vax for kids 5-11 that "we're never going to learn about how safe this vaccine is unless we start giving it."


That said, with the unexplained surge in hospitalizations for non-covid related illnesses due to blood clots, heart attacks, heart conditions and weakened immune systems we're seeing throughout the West we may soon learn the "vaccine efficacy" is actually negative.

UPDATE: Belgian TV aired footage of GasthuisZusters Antwerpen hospital manager Dr. Kristiaan Deckers stating that 100 percent of patients in their ICUs are vaccinated.

Deckers noted that a few weeks ago the "majority" of patients in their ICU were unvaccinated "but right now that is not true anymore."

"The patients in the ICU of our hospitals in GZA, I checked it yesterday, are all vaccinated," Deckers said.



Follow InformationLiberation on Twitter, Facebook, Gab, Minds, Parler and Telegram.