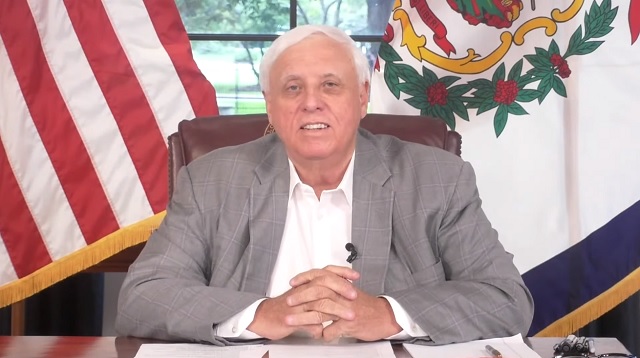 West Virginia Gov Jim Justice on Friday threw his support behind three conservative Maryland counties working to secede from Democrat tyranny and join Best Virginia.

Maryland's corrupt Democrat overlords are currently working on gerrymandering the state in a way that "would guarantee no Republicans in the state's delegation," the New Hampshire Journal reported on Wednesday.

From The New York Times, "Bye, Maryland? Lawmakers in 3 Counties Float a Plan to Secede From the State.":

Lawmakers from the counties — Garrett, Allegany and Washington — say their rural, conservative constituents have long been fed up with their overwhelmingly liberal and Democratic fellow Marylanders. They say they have more in common with the folks on the other side of the country road in neighboring West Virginia.

The secession plan was floated by six Republican lawmakers from the counties who wrote a letter to Republican legislative leaders in West Virginia this month asking whether their counties could join that state.

"We believe this arrangement may be mutually beneficial for both states and for our local constituencies," they wrote. "Please advise on next steps."

[...] Wendell R. Beitzel, a Western Maryland delegate who signed the letter, acknowledged the proposal faces daunting odds, but said it was not a political stunt.

"We wouldn't be doing this if we didn't feel there is a strong sense of unrest and unhappiness among people in our rural area of the state," he said.

Mr. Beitzel, who represents parts of Garrett and Allegany Counties, said his rural constituents have been asking to leave Maryland for years.
Constituents are angry over anti-white brainwashing in public schools and covid tyranny.
He ticked off a litany of hot topics that concern them: the state's crackdown on fracking, mask mandates and the teaching of racial issues in schools. He also described what he views as an endless stream of regulations from progressive leaders in Annapolis, the state capital, some 200 miles to the east.

"The people out here keep contacting the legislators from this region and saying: 'Why don't we go to West Virginia? Why don't we go to West Virginia?'" Mr. Beitzel said. "All the legislators have been hounded from our constituents to check in on the possibility."
West Virginia Gov. Jim Justice eagerly threw his support behind the plan and the state's legislature is taking steps to try and make it a reality.

WATCH:



From Office of the Governor:

Gov. Jim Justice and West Virginia legislative leaders today announced their support for a proposal to make three western Maryland counties part of West Virginia.

Several lawmakers from Garrett, Allegany, and Washington counties in Maryland recently authored a pair of letters asking the West Virginia Legislature to consider adding them to the Mountain State. Calling the proposed arrangement "mutually beneficial for both states and for our local constituencies," the Maryland officials' request comes in the midst of an unprecedented period of success for West Virginia under Gov. Justice's leadership. This month alone, West Virginia has cracked the top 10 states in the nation for quarterly GDP growth, set an all-time state record-low unemployment rate, and the Governor announced that his Billion-Dollar Broadband Strategy will bring high-speed broadband availability to 200,000 more homes and businesses.

"We've got it going on right now in West Virginia. We are knocking it out of the park. Why wouldn't you want to come?" Gov. Justice said. "We want everyone to know that we are standing here with open arms. We welcome these counties and would be tickled to death to have them and the great folks of that incredible state."

"Our state supports personal freedoms, we value the Second Amendment, and we love the rights of the unborn. We love and embrace our energy industry," Gov. Justice continued. "Moving to West Virginia means job opportunities like crazy and a chance to live in paradise. No matter where you're from, we'd love to have you in West Virginia."

Gov. Justice went on to announce that he is working with legislative leadership to call a Special Session soon so that lawmakers can consider a resolution to make the offer official.
A poll released in late September found 52% of Trump voters and 42% of Biden voters support secession.

Though seceding from the Union would open a whole can of worms, counties seceding to join nearby states would allow for significantly more self-governance and push back against extreme gerrymandering.

Follow InformationLiberation on Twitter, Facebook, Gab, Minds, Parler and Telegram.