Armed 'Undercover Officer' Arrested At 'Justice For J6' Rally Won't Be Charged
Chris Menahan
InformationLiberation
Sep. 20, 2021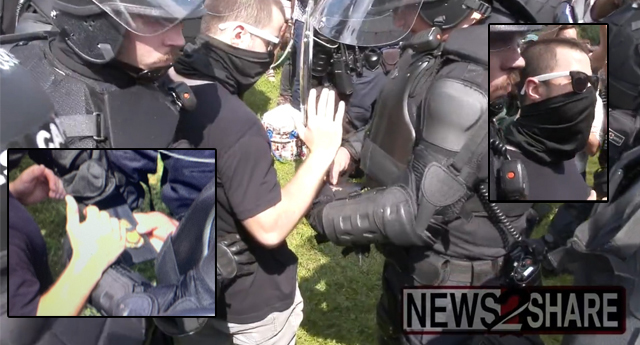 The suspected undercover law enforcement officer arrested and inadvertently outed by his fellow officers at the Justice for J6 rally on Saturday will not be charged for illegally carrying a firearm on Capitol grounds, the AP reports.


From AP, "Federal officer arrested at Capitol rally won't be charged":

A federal law enforcement officer was arrested carrying a gun at Saturday's rally at the U.S. Capitol billed to support the suspects charged in January's insurrection but will not be prosecuted.

The 27-year-old New Jersey man is an officer with U.S. Customs and Border Protection. He was arrested by Capitol Police for illegally possessing a gun on the grounds of the Capitol after people in the crowd reported seeing him with a handgun and notified nearby officers.
Our border was literally being overrun by Haitian illegal aliens while this lawful, permitted rally was taking place but CBP was focused instead on denying Americans their right to protest.

Generally, under federal law, law enforcement officers are given reciprocity to legally carry their weapons in other states, even those with restrictive gun laws. But the law has an exemption for government property or military bases where it is illegal to carry a gun, like the U.S. Capitol.

A spokesman for the U.S. attorney's office in Washington said prosecutors were "not moving forward with charges" but did not provide additional information about the decision.
Jan 6 protesters are being stripped of their rights, held in indefinite detention, tortured, beaten, racially abused and locked in solitary confinement in DC jails... but the feds are just releasing this guy out of the goodness of their hearts!

The AP goes on to run cover for this fed and launder law enforcement's propaganda:

Two law enforcement officials said the officer was not at the rally in any official capacity. The officials could not discuss the matter publicly and spoke to the AP on condition of anonymity. The Department of Homeland Security's inspector general was also notified of his arrest.
Not only is he not being charged but his name is being hidden.


How many undercover feds and informants were leading the protest on Jan 6?

We know one of the top organizers of the event, Proud Boys leader Enrique Tarrio, was a "prolific" informant who dipped out before the protest started and we know the FBI manufactured the Whitmer kidnapping plot and funded and led the Satanic "neo-nazi terrorist" death cult Atomwaffen Division.

Did they manufacture Jan 6 as a pretext to declare all their opposition "domestic terrorists"?

Follow InformationLiberation on Twitter, Facebook, Gab, Minds, Parler and Telegram.