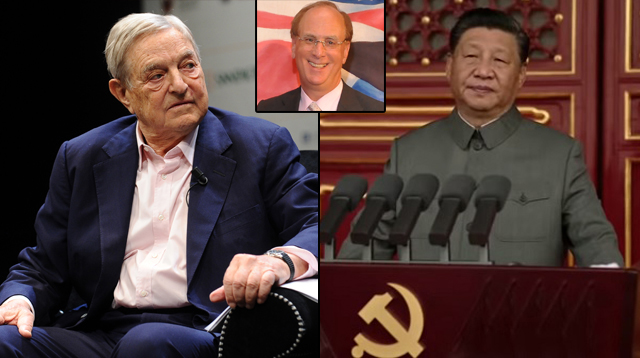 George Soros is demanding BlackRock's Larry Fink pull his new China funds to punish President Xi Jinping for taking a hard right turn and throwing globalist billionaires in prison and seizing their wealth rather than letting them run his country.

Last month, Soros wrote a column in the Wall Street Journal declaring the "intensely nationalistic" Xi "the most dangerous enemy of open societies in the world."


Xi has instituted an aggressive series of reforms cracking down on every element of the liberal world order used to subvert our societies.

In just the past few weeks Xi has instituted new policies to enforce traditional gender roles on TV and throughout society, restrict foreign schools pushing woke bull****, ban "simping" and fandom culture, unleash China's "childbirth potential" through a new three-child policy, cap rent prices to encourage family formation and much, much more.

On Monday, Soros had yet another column published in the WSJ bashing Xi and calling on BlackRock's Larry Fink -- who manages over $9 trillion in assets through his investment management firm -- to pull his China investment funds.

From Wall Street Journal:

BlackRock's China Blunder

Pouring billions into the country now is a bad investment and imperils U.S. national security.

By George Soros
Sept. 6, 2021 11:42 am ET

BlackRock, the world's largest asset manager, has begun a major initiative in China. On Aug. 30 it launched a set of mutual funds and other investment products for Chinese consumers. The New York-based firm is the first foreign-owned company allowed to do so. The launch came just weeks after BlackRock recommended that investors triple their allocations in Chinese assets. This will push billions of dollars into China. "The Chinese market represents a significant opportunity to help meet the long-term goals of investors in China and internationally," BlackRock Chairman Larry Fink wrote in a letter to shareholders.

[...] The BlackRock managers must be aware that there is an enormous crisis brewing in China's real-estate market. They may believe that investment funds flowing into China will help Mr. Xi handle the situation, but the president's problems go much deeper. China's birthrate is much lower than official statistics indicate and Mr. Xi's attempts to increase it have made matters worse. The president recently launched his "Common Prosperity" program, which is a fundamental change in direction. It seeks to reduce inequality by distributing the wealth of the rich to the general population. That does not augur well for foreign investors.

Pouring billions of dollars into China now is a tragic mistake. It is likely to lose money for BlackRock's clients and, more important, will damage the national security interests of the U.S. and other democracies. Mr. Xi faces an important hurdle in 2022. Many believe he intends to overstep the term limits established by Deng Xiaoping and make himself ruler for life. He is bound to have enemies, whom he must prevent from uniting against him. Thus, he needs to bring to heel any entity rich enough to exercise independent power.

This process has been unfolding in the past year and reached a crescendo in recent weeks. It began with the abrupt cancellation of a new issue by Alibaba's Ant Group in November 2020. Then came the disciplinary measures against Didi Chuxing after it floated an issue in New York in June. Things culminated with the banishment of U.S.-financed tutoring companies from China. This had a profoundly negative effect on offshore markets, hammering New York-listed Chinese companies and shell companies. Chinese financial authorities have tried to reassure markets ever since.
The leaders of Western asset-management firms, such as Stephen Schwarzman, co-founder of investment firm Blackstone, and former Goldman Sachs President John L. Thornton, have long been interested in the Chinese consumer market—and in the prospect of business opportunities dangled by Mr. Xi.

BlackRock is only the latest company trying to engage with China. Earlier efforts could have been morally justified by claims that they were building bridges to bring the countries closer, but the situation now is totally different. Today, the U.S. and China are engaged in a life and death conflict between two systems of governance: repressive and democratic.
"Repressive" = self rule as we see in China and Hungary.

"Democratic" = globalist rule as we see in America and throughout the West.

The BlackRock initiative imperils the national security interests of the U.S. and other democracies because the money invested in China will help prop up President Xi's regime, which is repressive at home and aggressive abroad. Congress should pass legislation empowering the Securities and Exchange Commission to limit the flow of funds to China. The effort ought to enjoy bipartisan support.
As I said on Sunday, our media doesn't want the American people to see what's happening in China because they don't want us to get any ideas!

We're obligated to live under globalist rule indefinitely because "free market conservative principles" demand it!

Follow InformationLiberation on Twitter, Facebook, Gab, Minds, Parler and Telegram.