Instagram Disables Account of Fallen Marine's Mother After She Blamed Biden For Son's Death
Chris Menahan
InformationLiberation
Aug. 31, 2021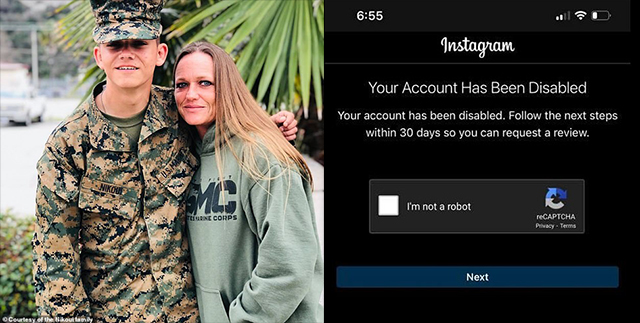 Who could have predicted this?

From The Daily Mail, "Mother of Marine killed in ISIS bomb attack has her Instagram account disabled after she blamed Biden for her son's death and claimed President 'rolled his eyes' and 'turned his back on her' when she confronted him"

Facebook temporarily deleted the Instagram account of the mother of one of the Marines killed in Afghanistan by an ISIS bomb last week after she publicly blamed President Biden for his death and the deaths of the other servicemembers killed.

Shana Chappell is the mother of Kareem Nikoui, 20, who was killed in the ISIS bomb attack at Kabul airport on August 26.

She has been vocal in her criticism of President Biden and says she blamed him for her son's death, along with the deaths of the 12 other troops who were killed. Chappell, a Trump voter, posted frequently about her disdain for Biden, before her son's death.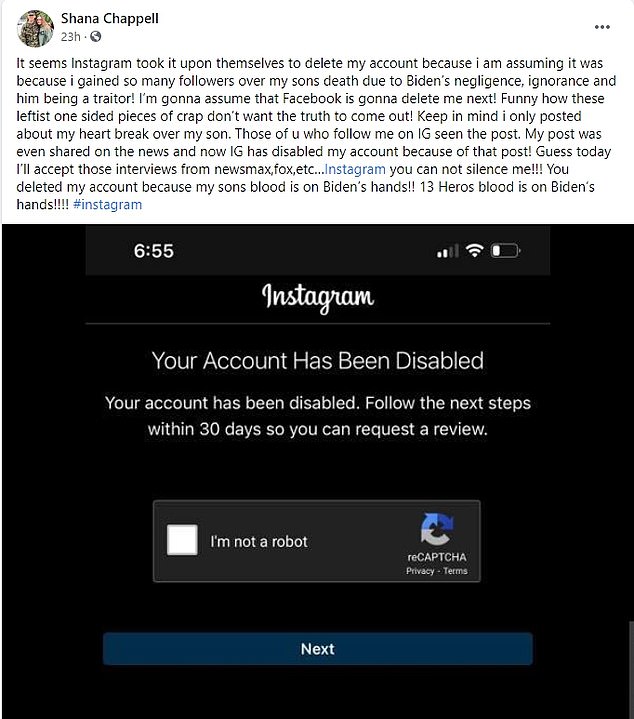 On Friday, she posted a tribute to her son on Instagram that received thousands of messages of condolence. In the days since, she shared another tribute and a video of the country singer Coffey Anderson volunteering to sing at a funeral for the slain troops.

On Facebook, Chappell has repeatedly blamed Biden for her son's death and in a post on Monday just before she had her Instagram account disabled, she wrote a long Facebook post directed at Biden where she described meeting him on Sunday at Dover Air Base.

She said she looked him 'straight in the eyes' and told him she did not want to hear about his late son Beau, who the President mentioned repeatedly, and told him he had her son's blood on her hands.

Chappell also alleged that Biden 'turned to walk away' then threw his hand 'up behind him as if he was saying "ok whatever" when she yelled at him that her son's blood was on her hands. The White House has not addressed those allegations.

Her account was suspended yesterday and was restored after she posted about being disabled on Facebook, and a Facebook spokesperson has since told DailyMail.com that it was deleted 'incorrectly' but it won't say how the 'mistake' came about.
If Chappell or Kathy McCollum, the mother of fallen Marine Rylee McCollum, get popular enough and keep talking about banned topics like election fraud you can rest assured they'll be perma-banned in due time.

If they're willing to ban a sitting president they're willing to ban anyone.

Follow InformationLiberation on Twitter, Facebook, Gab, Minds, Parler and Telegram.