Saints Tickets Sell For Less Than $1 After Vax Passport Or Negative CV Test Required For Attendance
Chris Menahan
InformationLiberation
Aug. 25, 2021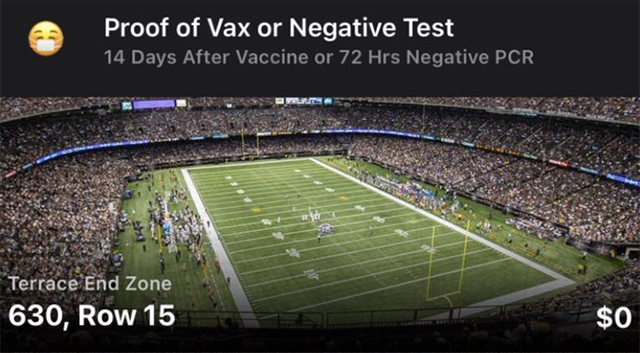 The tickets are still overvalued at this price.

From The Daily Caller:

The Saints are playing the first game in the NFL to require fans to be vaccinated or provide a negative PCR COVID-19 test. What has that done to ticket prices for Monday night? Driven them straight into the ground.

According to Darren Rovell, some tickets on the secondary market are selling for less than $1 before fees.


As of this moment, StubHub has tickets for as cheap as $6. So, while it's not the lowest on the secondary market, they're still absurdly cheap.

This is honestly insane. Imagine taking your entire family to an NFL game for less than $20. Preseason games are always cheap, but they're not this cheap.

They're not this cheap at all. This is happening because of coronavirus restrictions.

While I don't want to sit and debate the vaccine, I will say that this is great news for vaccinated people. If you're vaccinated, some sports games are apparently going to be shockingly cheap.
According to the Daily Caller (David Hookstead was the author, of course), the lumpenproles are supposed to line up around the block for their experimental shots so they can watch some cheap sportsball.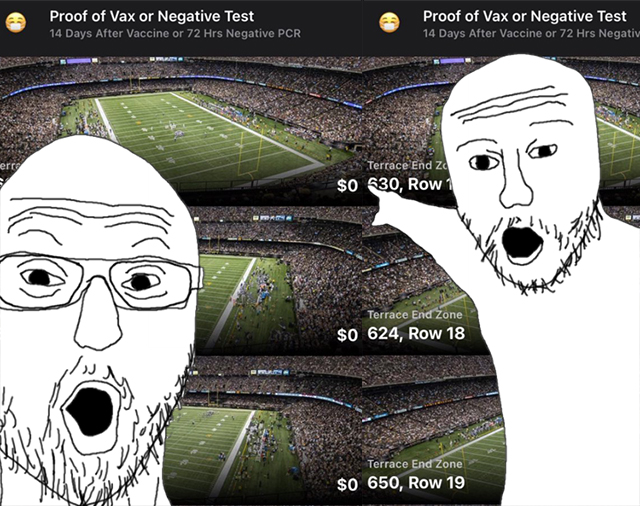 They should be paying us to watch their crap games!

Follow InformationLiberation on Twitter, Facebook, Gab, Minds, Parler and Telegram.