Flashback: Dr. Deborah Birx Said 'There Is Nothing From The CDC That I Can Trust'
Chris Menahan
InformationLiberation
Aug. 09, 2021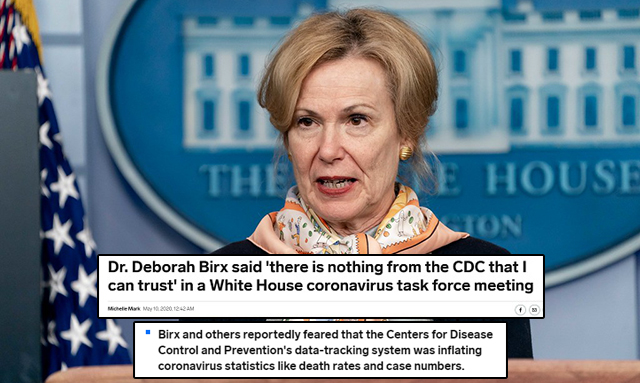 If you don't trust the numbers coming out of the Centers for Disease Control and Prevention, you're not alone.

From Business Insider, May 10, 2020, "Dr. Deborah Birx said 'there is nothing from the CDC that I can trust' in a White House coronavirus task force meeting":

Dr. Deborah Birx, the White House's coronavirus task force response coordinator, blasted the Centers for Disease Control and Prevention during a discussion on COVID-19 data in a recent meeting, The Washington Post reported on Saturday.

"There is nothing from the CDC that I can trust," she told CDC Director Robert Redfield, two people familiar with the meeting told the newspaper.

The Post reported that Birx and others feared that the CDC's data-tracking system was inflating coronavirus statistics like mortality rates and case numbers by up to 25%.
Brix was pretty hysterical throughout her time on the task force and yet even she said she didn't trust the CDC's numbers.

CDC director Rochelle Walensky, Anthony Fauci and Surgeon General Vivek Murthy were all just caught lying to the public when they said over 99% of covid patients dying in hospitals were unvaccinated.

The CDC's own data that was shared with the Washington Post showed that in May at least 15 percent of in-hospital deaths were among people who had been vaccinated.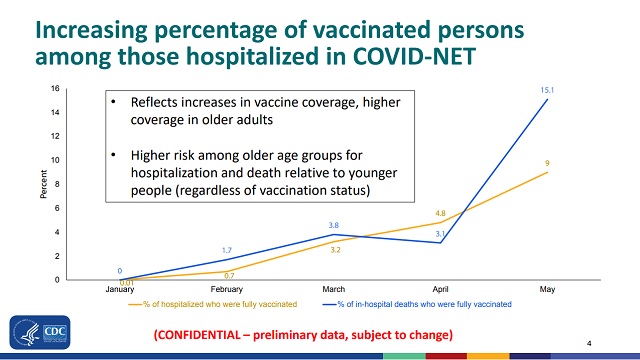 They were claiming the number was around 0.5% rather than 15%, which is a 30x exaggeration. If they're willing to inflate one figure by at least 30x, what other figures are they lying to us about?

Follow InformationLiberation on Twitter, Facebook, Gab, Minds, Parler and Telegram.