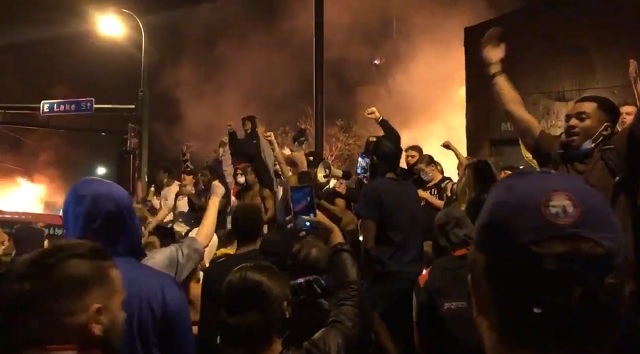 What records will Minneapolis break next?

From The Daily Caller, "Murderapolis: City At Center Of George Floyd Protests Hits All-Time High Murder Record":

Minnesota, where George Floyd was killed last May, set a state record for murders in 2020 after officials from across the state called for the defunding of police departments, according to new data.

Last year, 185 people were killed in Minnesota, a 58% increase from 2019. The previous record of 183 homicides, set in 1995, caused Minneapolis to be dubbed "Murderapolis."

The majority of the murders occurred in St. Paul and Minneapolis, two cities that also saw a significant decrease in the number of active police officers.

The Twin Cities were additionally at the heart of the nationwide "Defund the Police" movement. Initially, a majority of Minneapolis city council members pledged to fully abolish the city's police department, but later relented after procedural challenges, deciding instead to simply cut $8 million from the department's budget, according to The Star Tribune.
From WCCO last week, "Minneapolis Marks Its 50th Homicide Of 2021":

Minneapolis police say the city has reached its 50th homicide of 2021 following the death of an assault victim Monday.

Investigators believe the man was attacked during an altercation on the 2200 block of Lowry Avenue North. He was brought to North Memorial Health early Saturday morning, and passed away three days later.

The Hennepin County Medical Examiner identified the victim as 25-year-old Awwal Ladipo of Minneapolis. His cause of death was listed as blunt force head trauma. His manner of death was not listed, pending an investigation by Minneapolis police.

So far, no arrests have been made in the case. Additionally, no information has been released on a possible suspect.

[...] There were 42 homicides in Minneapolis at this point in 2020. The city appears to be on pace with the body count racked up in 1995 -- the year the city was dubbed "Murderapolis." There were 97 murders in total that year.

Police also pointed out that Minneapolis homicides being investigated by outside agencies are not included in the count.
The latest BLM revival resulted in weeks of riots and looting all across the nation, $2 billion or more in damages, record murder rates in major cities, imploding race relations, the end of due process and the "English jurisprudential culture," and a mass exodus from the cities... and we're just getting started!

Follow InformationLiberation on Twitter, Facebook, Gab, Minds, Parler and Telegram.