Eric Clapton Announces He Will Not Perform At Venues Which Discriminate Against Unvaccinated
Chris Menahan
InformationLiberation
Jul. 22, 2021


Rock legend Eric Clapton announced Tuesday that he will not perform at venues which discriminate against the unvaccinated.

From Rolling Stone:

Clapton issued his statement in response to Prime Minister Boris Johnson's announcement on Monday, July 19th, that vaccine passes would be required to enter nightclubs and venues. Clapton's statement was shared via the Telegram account of film producer and architect Robin Monotti, who has also been skeptical of the Covid-19 vaccine and expressed other doubts about the U.K. government's response to the pandemic. (Clapton previously shared a message about his "disastrous" health experience after receiving the Covid-19 vaccine on Monotti's Telegram page.)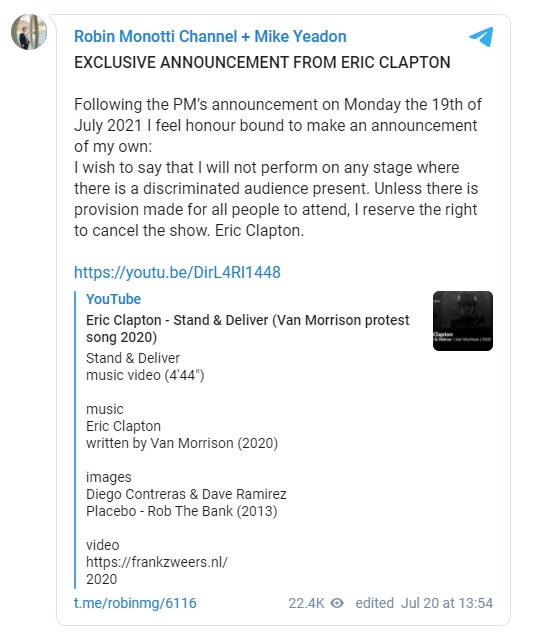 "Following the PM's announcement on Monday the 19th of July 2021 I feel honor-bound to make an announcement of my own," Clapton said. "I wish to say that I will not perform on any stage where there is a discriminated audience present. Unless there is provision made for all people to attend, I reserve the right to cancel the show."

The message was accompanied by a link to Clapton's anti-lockdown song with Van Morrison, "Stand and Deliver."
Thank you, Mr. Clapton!



What a contrast to the sell-out Foo Fighters!


The Foo Fighters had to cancel a recent concert that was exclusively for the "vaccinated" after someone in their band or crew (they refused to say who) that was fully "vaccinated" caught covid anyways.


Monotti's Telegram page appears to have a ton of great content.

He's apparently sharing it with ex-Pfizer exec Mike Yeadon, who if you haven't seen it already, went off about Western governments' insane response to covid in an epic "final interview" a couple weeks ago on the TCN TV Network.

Yeadon said he was going to try writing more and it appears he's now writing a lot on Telegram.

It's nice to see Clapton is helping give him a wider platform after the relentless censorship he has faced!

[Header image by Raph_PH via Flickr, CC BY-SA 2.0]

Follow InformationLiberation on Twitter, Facebook, Gab, Minds, Parler and Telegram.