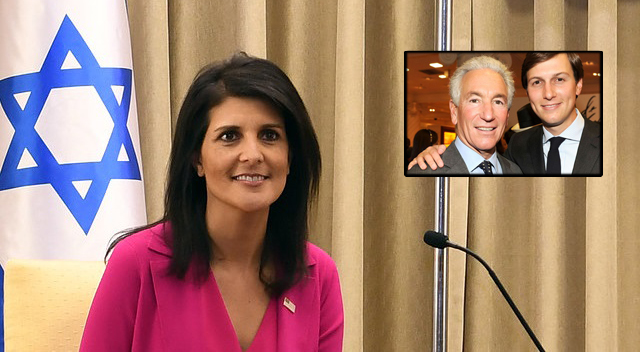 Jared Kushner's blackmailing father was pardoned by President Trump along with a bunch of other super-criminals on his final days in office and this is how he repays him.

From the Jewish Telegraphic Agency, "Ivanka's in-laws fundraise for Nikki Haley, push her for 2024 presidential run":

Charles Kushner, father of Jared Kushner and father-in-law of Ivanka Trump, hosted a fundraising event for Nikki Haley and speculated about the former South Carolina governor and UN ambassador becoming president.

If Haley declares, and Donald Trump, Jared Kushner's father-in-law, says he wants another shot at the White House, things could get interesting at the Kushner family seder.

Vanity Fair reported Monday that the day before, as Trump was on Fox hinting that he is likely to run again, Charles Kushner was hosting a brunch for Haley in New Jersey.

The elder Kushner predicted Haley would be "the first woman president" and guests donated to her political action committee. Haley has said she will announce her decision about whether to run in 2024 early in 2023.

Jared Kushner and Ivanka Trump did not attend the event; they were in Aspen, Colorado, Vanity Fair said. But they have lunched with Haley since Donald Trump left office and Trump reportedly blames his loss of the presidency last year in part on Jared Kushner, who effectively managed the reelection campaign.
"Last month, [Haley] visited former Israeli prime minister Benjamin Netanyahu with Christians United for Israel founder John Hagee," Vanity Fair reported.


Since leaving office, Kushner went on to found the Abraham Accords Institute together with Hillary Clinton/Democrat megadonor Haim Saban.

Saban famously told the New York Times in past, "I'm a one-issue guy, and my issue is Israel."

The much-hyped Abraham Accords were largely just promises of billions of US taxpayer dollars and high-tech weaponry to various Arab kings in exchange for them normalizing relations with Israel (against the will of their own populations).

As I reported in December, Jared Kushner and his newly-pardoned criminal father Charles appear to be seeking "at least" $100 million in kickbacks on the over $38 billion in US foreign aid they helped secure for Israel.


On Thursday, the NY Post showcased Javanka's new $24 million Florida estate.


In June, it was reported that former US secretary of the Treasury Steven Mnuchin and former US ambassador to Israel David Friedman, who were both also heavily involved in securing the Abraham Accords, are working to team up with former Mossad head Yossi Cohen to form an investment fund.


Cohen stepped down as the head of the Mossad on June 1.

Globes reported last week that Cohen has been tapped to join the biggest venture capital firm in the world, Softbank, to head their branch in Israel "even though he does not have a background in investment."

Since getting bailed out from his underwater investment in 666 Fifth Avenue under highly suspicious circumstances during Trump's presidency, Charles Kushner has been gobbling up mid-sized suburban homes BlackRock-style and collecting hundreds of millions in loans.

How much of that money is being funneled into Nikki Haley's astroturfed 2024 presidential campaign has yet to be determined.

Follow InformationLiberation on Twitter, Facebook, Gab, Minds, Parler and Telegram.