'There's A Concerted Backlash': Ibram X Kendi Laments Pushback Against Anti-White Critical Race Theory
Chris Menahan
InformationLiberation
Jun. 12, 2021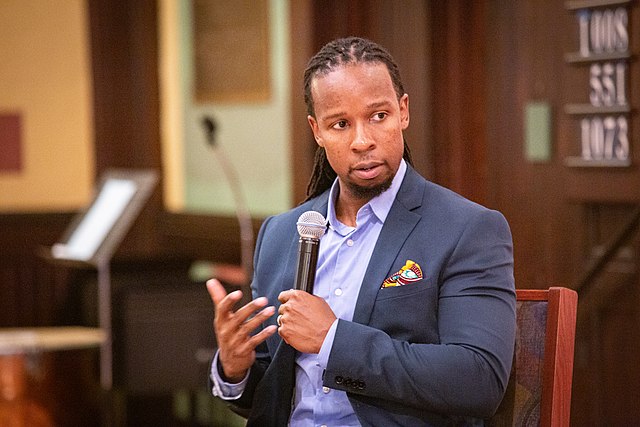 Two-bit Malcolm X knockoff Henry Rogers, aka "Ibram X Kendi," whined to the Guardian on Saturday about how he's being victimized because people are criticizing him and pushing back against anti-white critical race theory.

From The Guardian, "'There's a concerted backlash': Ibram X Kendi on antiracism under attack":

A whitewashing of history is under way in red state America. Republican officials are proposing numerous laws to ban school teachers from emphasizing the role of systemic racism in shaping the nation.

And every reactionary backlash needs a scapegoat. Conservatives have settled on two prominent people of colour to accuse of indoctrinating American children: Nikole Hannah-Jones, a journalist who oversaw the 1619 Project, and Ibram X Kendi, author of the influential book How to Be an Antiracist.

Kendi believes the movement is a concerted rightwing effort to reverse the racial awakening in America sparked a year ago by the police murder of George Floyd in Minneapolis.

"I do think there's a concerted backlash from people who recognize that this time last year a growing number of Americans were either speaking out against racism or growing an awareness of the problem of racism," he told the Guardian via Zoom from Boston.

"That growing awareness has put a spotlight on certain policies and certain ideas and even certain people who have been facilitating systemic racism and so those very people are like, 'How do we turn off the spotlight? How do we make the problem the people identifying us and our racism as the actual problem as opposed to racism itself?'"

[...] The 38-year-old academic reflects: "It's been regular and constant in terms of personally being targeted in ways it's difficult for me to swallow because oftentimes it's people completely misrepresenting me and my work. And then people who haven't read my work, or who haven't seen me speak about what it means to be antiracist, just then go along with what people are saying."

About a decade ago, he recalls, a white nationalist conjured the phrase "Antiracist is code for antiwhite" and, along with white supremacist organisations, posted it on billboards in white communities across the US. "And now you have people who claim they're not white nationalists arguing that those of us who are identifying and recognising the existence of structural racism are actually saying that white people are inherently evil or bad or racist when that's not what we're saying. We're saying what's inherently bad is racism."
Wow, it must be really terrible having people misrepresent you and your history!

Fortunately, we have great thinkers like Ibram X Kendi and Ashleigh Shackelford to set us straight and guide us on how to be anti-racist!



"The only remedy to racist discrimination is antiracist discrimination," Kendi wrote in his book How to Be an Antiracist. "The only remedy to past discrimination is present discrimination. The only remedy to present discrimination is future discrimination."

Y'all privileged white folx need to recognize that oppressed folx like Kendi -- who was recently handed $10 million from Twitter CEO Jack Dorsey to form an "antiracism center," had his book shilled by the richest man in the world and placed on the front page of Amazon last summer, and gets $20,000 from public colleges for a one-hour speech -- are victims of white supremacy and systemic racism.

That's why they need to implement systemic racism against y'all and exclude poor white families from getting a UBI in Oakland and systemically discriminate against white farmers when it comes to getting COVID aid -- all while giving $5 billion to non-white farmers as reparations!

This is how we achieve "equity!"

[Header image by Tony Turner Photography/Montclair Film via Flickr, CC BY-SA 2.0]

Follow InformationLiberation on Twitter, Facebook, Gab, Minds, Parler and Telegram.