Video Shows Moment Murdered 4-Yr-Old Cash Gernon Was Snatched From His Bed by Darriynn Brown
Chris Menahan
InformationLiberation
May. 18, 2021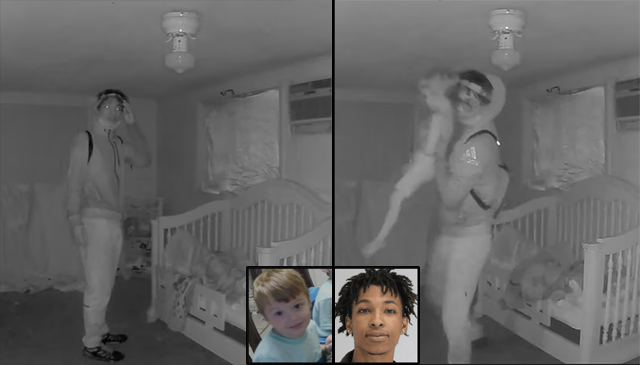 Newly released video shows the moment that four-year-old Cash Gernon was snatched from his bed in a Dallas suburb by 18-year-old Darriyn Brown, just two hours before Cash was found stabbed to death and dumped on the street.

From The Daily Mail, "EXCLUSIVE: The moment four-year-old Cash Gernon was snatched from his bed as he slept alongside his twin brother by suspect Darriynn Brown - who is seen RETURNING for the other boy at daybreak before getting spooked and fleeing":

Home surveillance footage obtained exclusively by DailyMail.com shows suspect Darriynn Brown, 18, allegedly breaking into the home just before 5am and making off with the toddler who had been asleep alongside his twin brother Carter.

DailyMail.com can also reveal Brown was captured on camera a second time as he returned to the scene after sunrise in an apparent attempt to kidnap the other boy - when Cash would have already been dead.

The two brothers had been staying at the home located on the 7500 block of Saddleridge Drive where they shared a bedroom located in the back of the house.

In night vision footage, Cash is seen sleeping peacefully in the same toddler bed as his sibling when Brown creeps in dressed in a hoodie, backpack, sweatpants, and sneakers, and hovers menacingly over the two boys.
He appears to hesitate for a few seconds, staring at the brothers and looking around the room, before finally reaching toward the bed and carefully pulling back the boys' blanket.

Brown stands motionless for another couple seconds while extending his arms over Cash, carefully trying not to wake the pair.

Then, in one swift motion, he quickly picks up Cash, who is immediately awoken, and bolts out of the room with the boy in his arms.

Carter, meanwhile, can be seen stirring slightly on the right side of the bed seconds after his brother is taken.

Roughly an hour and 45 minutes later, Cash was found lying dead in a pool of blood in a quiet residential Dallas street after being stabbed with what police described as an 'edged weapon.'

A second and further disturbing clip also shows Brown returning to the bedroom after daybreak around 7am, this time apparently targeting Carter.

Brown is seen hovering the boy who is still asleep, but leaves empty-handed after a few seconds after he appears to be scared off by someone or something.

[...] At the time of the kidnapping Brown was wearing an ankle monitor stemming from a separate arrest last month.
We shouldn't have to live like this.



Follow InformationLiberation on Twitter, Facebook, Gab, Minds, Parler and Telegram.