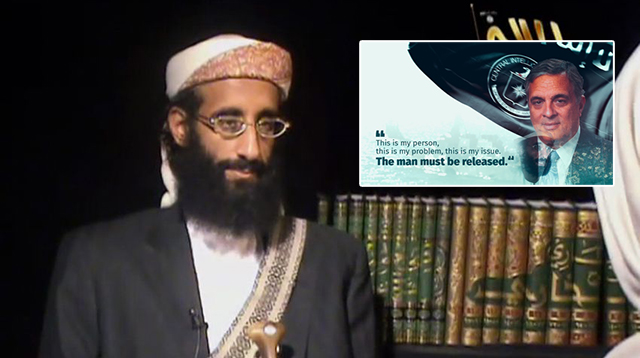 Anwar al-Awlaki, a top al-Qaeda leader with connections to 9/11, was a CIA asset if this new report based off a leaked tape of former CIA Director George Tenet is to be believed.


From The American Conservative, "'This Is My Person,' CIA Director Allegedly Said Of Anwar Al-Awlaki":

Investigative journalist Alex Rubinstein came out with a bombshell scoop on his Substack this morning, reporting that former CIA Director George Tenet had, in 2001, asked then-President of Yemen Ali Abdullah Saleh to release an unnamed prisoner connected to the Al Qaeda attack on the USS Cole in October of the previous year, which killed 17 U.S. sailors and injured 37 others.

Though Tenet refused to name the person on the call, other sources confirm that the prisoner in question was Anwar al-Awlaki, an influential imam with dual U.S.-Yemeni citizenship, who would go on to become a key figure in Al Qaeda's recruitment and operations throughout the subsequent decade. In April of 2010, the U.S. citizen was placed on a CIA kill list by the Obama administration, and successfully executed in a drone strike in September of the next year. (His 16-year-old son, also a U.S. citizen born in Denver, was killed in another U.S. drone strike two weeks later. His eight-year-old daughter was later killed by American troops in an attack ordered by President Donald Trump.)

The content of the 2001 calls leaves little ambiguity about Tenet's—and the U.S. government's—interest in al-Awlaki:

Saleh notes that the FBI team tasked with the USS Cole investigation had already arrived in Sana'a, and asks Tenet if the FBI personnel could meet with him to discuss the matter. Tenet refuses, saying "this is my person, this is my problem, this is my issue… The man must be released."

"I've talked to everybody in my government; I told them that I was going to make this call," Tenet says.

Nor was American support for al-Awlaki limited to the CIA. Even in the wake of the 9/11 attacks months later, he remained a prominent voice in government orbits, though his public and private behavior ought to have aroused serious suspicion.

Following the September 11, 2001 terrorist attacks, "al-Awlaki was one of Washington DC's go-to Muslim sources, considered a moderate Islamic voice with positive views of the United States and the West who did not shy away from publicly condemning Islamist terrorism and the 9/11 attacks" according to a research paper published by the Homeland Security Digital Library. In highly-public remarks, he was condemning the attacks, but just days after he was giving comments to Islamic websites blaming Israel and claiming the FBI had placed the blame on any passenger on those flights with Muslim-sounding names. . . .

Around this time, al-Awlaki would become the first imam in history to conduct a prayer service in the U.S. Capitol.
The special privilege that al-Awlaki enjoyed in the United States during these years is puzzling given not just his growing presence and escalating radicalism online—which earned him the moniker "bin Laden of the internet"—but his real-world connections to some of the most dangerous and prominent Islamic extremists in the country. Rubinstein recounts some of al-Awlaki's established interactions with, in particular, some of the key players in the September 11th, 2001 attacks—which would have taken place, it seems, just after the director of the United States Central Intelligence Agency sprung him from a Yemeni prison.

During al-Awlaki's time in San Diego, when he wasn't getting busted for trying to pick up prostitutes or starting failed business ventures, he held frequent, closed-door meetings with al-Hazmi and al-Mihdhar until he went on what he told reporters was a "sabbatical" through "several countries" in 2000, the year that the USS Cole was bombed.

Some time the following year, al-Awlaki resettled just outside Falls Church, Virginia, and became the imam at a local mosque. He was followed by the three hijackers: Hanjour, al-Hazmi, and al-Mihdhar, and an associate of his set them up with an apartment in Alexandria. Additionally, one accused key planner of the 9/11 attacks, Ramzi bin al-Shibh, the so-called "20th hijacker" currently held in Guantanamo Bay, had al-Awlaki's phone number in his personal contact list when his apartment was raided in the days following the attacks.

Freedom of Information Act requests have furnished the public with under-reported documents showing when the FBI investigated al-Awlaki's Visa transactions, an entry for "Atta, Mohammed—American West Airlines, 08/13/2001, Washington, DC to Las Vegas to Miami" turned up. Mohammed Atta is widely described as the "ringleader" of the September 11 attacks.

The flight referenced was one of Atta's so-called "surveillance flights." Logs for flights of two more hijackers—one of the al-Shehri brothers and Satam al-Squami, also appear in the disclosed Visa investigation documents. The FBI has denied having evidence of al-Awlaki purchasing plane tickets for the hijackers.
Read TAC's shorter rundown and Alex Rubinstein's full report.

Follow InformationLiberation on Twitter, Facebook, Gab, Minds, Parler and Telegram.