Father Of Slain Boulder Cop Says Son Would Be 'Deeply Offended' If Death Was Exploited For Gun Control
Chris Menahan
InformationLiberation
Mar. 26, 2021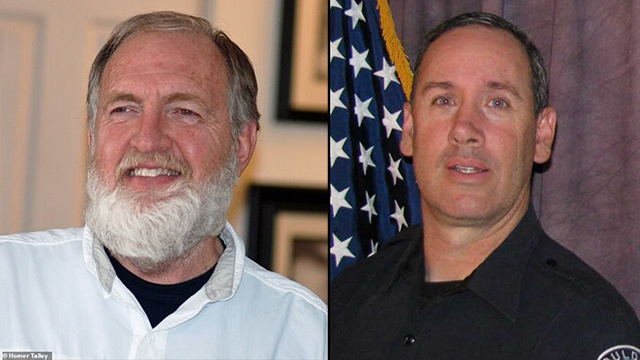 The father of slain Boulder police officer Eric Talley pushed back against the Biden regime's move to exploit his son's death to disarm Americans by telling the media his son was a strong supporter of the Second Amendment who owned an AR-15 and would be "deeply offended" if his death was used to promote gun control.

From The Daily Mail, "Father of Boulder cop, 51, who was killed in supermarket massacre says his son was a Second Amendment advocate who owned an AR-15 and would be 'deeply offended' if his death promoted gun control":

Boulder police officer Eric Talley, 51, was killed Monday after responding to the scene of the King Soopers massacre, which also saw nine others shot dead.

But his father Homer Talley says his son was a gun enthusiast, who even owned an AR-15 rifle - which is similar to the Ruger AR-556 used in the massacre.

'My son would have been deeply offended to know his death would be used to promote gun control. Before he was an officer, he enjoyed shooting,' Homer told TMZ.

Talley says his son was a strong supporter of the second amendment and often used his AR-15 rifle for target practice.

Officer Talley was one of the first to respond to the scene at King Soopers, where gunman Ahmad Alissa, 21, opened fire killing two people in the supermarket's parking lot and eight more inside before being apprehended by police.

[...] Homer called Monday's massacre 'a senseless act and that is just it. The situation [Eric] found himself in wasn't one that the government could protect him from.'

He added, 'Just because some wacko goes around shooting people doesn't mean guns need to be taken away. You can't take away enough guns to protect this country.'
Biden said he would use executive action to advance gun control during his first press conference on Thursday and insisted it's just a matter of "timing."



In this case, the "timing" is right after 10 White Americans were massacred by an imported Syrian Muslim "refugee."

The FBI failed to stop the massacre despite having the shooter on their radar, no doubt because they've been busy spending all their time vindictively throwing Trump supporters in prison on trumped-up charges and raiding military veterans and terrorizing their families for protesting at the Capitol.

The push for gun control also comes as the Biden regime is throwing open our border to hundreds of thousands of "refugees" from countries they're at war with and distributing illegal aliens throughout the country without so much as a court date.

Follow InformationLiberation on Twitter, Facebook, Gab, Minds, Parler and Telegram.