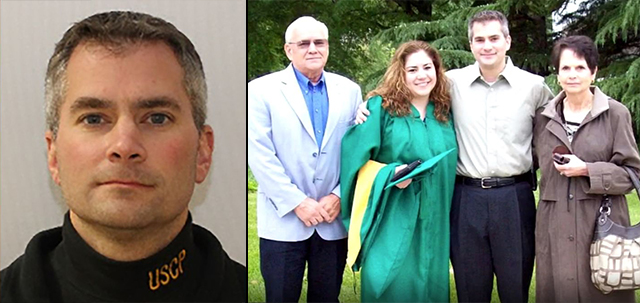 The mother of Capitol police officer Brian Sicknick is bravely speaking out against the government and media's lies about her son's death.

From The Daily Mail, "He was the martyred face of the Capitol riot but now mother of hero cop Brian Sicknick says she believes her son died of a fatal stroke - not a fire extinguisher to the head - while authorities won't say a word":

The mother of the US Capitol police officer who died following the riot on January 6 believes that her son succumbed to a fatal stroke - that he was not bludgeoned to death by a fire extinguisher as reported.

Yet more than one month after Officer Brian Sicknick's death on January 7, she has admitted that they are still in the dark as to what exactly caused that catastrophic episode.

Speaking exclusively to DailyMail.com Gladys Sicknick, 74, was unequivocal in her assertion that Officer Brian Sicknick was not struck on the head and that as far as the family knows her son had a fatal stroke.

She said, 'He wasn't hit on the head no. We think he had a stroke, but we don't know anything for sure.

'We'd love to know what happened.'

Because, while politicians have grandstanded and rushed to judgment no one has yet given the family the answers they need.
It has been almost two months and the government has given us no new information on Sicknick's death nor the death of Ashli Babbitt, Kevin Greeson, Benjamin Philips or Rosanne Boyland.
No one could dispute the tragedy of the death of the 42-year-old officer who spent his final hours protecting the US Capitol.

But in the six weeks since his death the truth has taken a backseat to the myth of the brutal attack. Democratic Impeachment Managers even brazenly cited the incident - that he was stricken in the head by a fire extinguisher - as fact in pre-trial articles filed February 2 despite already growing doubts.

[...] On February 2 CNN reported that investigators were 'vexed' by the lack of evidence linking anyone with Sicknick's death. According to their source medical examiners had found no sign of blunt trauma.

Yet that very day Democratic Impeachment Managers filed their pre-trial articles in which they ignored all doubts and evidence to the contrary and stated as fact, 'The insurgents killed a Capitol police officer by striking him in the head with a fire extinguisher.'
The Daily Mail also made clear the possibility that Sicknick was killed as a result of police's pepper-spray:

A research paper into the health hazards of capsaicin, the active ingredient in both pepper and bear spray, uncovered by DailyMail.com and published by the University of North Carolina, found that one potentially lethal side effect of inhalation was, 'acute hypertension (similar to ammonia inhalation), which in turn can cause headache and increase the risk of stroke.'

But pepper spray – used by both cops and rioters - has a higher percentage of this active ingredient than bear spray, rioters reported seeing cops sprayed with their own pepper spray amid the confusion and Sicknick told his brother he had been sprayed twice by pepper spray.

Indeed DailyMail.com has learned that one officer was admitted to hospital suffering adverse symptoms on January 6 having inhaled pepper spray which was being liberally used by both law enforcement and rioters.

According to Douglas Buchanan Chief of Communications for DC's Fire and Emergency Medical Services (FEMS), 'The officer was treated on the scene and seemed to be fine but when his vitals were taken his blood pressure was very high and it was decided that he should be transported to hospital for further treatment.'

If Officer Sicknick was suffering any such ill-effects from inhaling the chemicals that clouded the air that day, he was unaware of them or simply did not seek treatment on the scene.

Instead, he returned to the police department and texted his older brother, Ken, to let him know that he was in 'good shape,' before collapsing.

DC's Fire and Emergency Medical Services declined DailyMail.com's request for further details regarding the emergency call placed for Sicknick or his transportation to hospital, citing the ongoing criminal investigation.

But speaking to Reuters shortly after his son's death, Sicknick's father, Charles, 81, said that his son had been resuscitated twice on the way to the hospital and placed on a ventilator on arrival.
The day of the Capitol protest the only person who was filmed being killed was 14-year Air Force veteran Ashli Babbitt -- who was shot point-blank while unarmed by a Capitol police officer.

The shooting, which was rightly being called an execution, could not have been any worse for the government.

Twitter moved swiftly to ban Michael Coudrey for sharing video of the shooting he clipped from Infowars after it racked up something like half a million views.


The media then came in to advance their fake "insurrection" narrative by falsely reporting Sicknick died -- even though he was still in the hospital and on life support.

The first reports that an officer had been killed were premature and emerged on January 6. US Capitol Police were swift to issue a denial.

It is now known that Officer Sicknick was on life support at the time and his death was confirmed barely 24 hours later at 9.30pm on January 7.

The official statement was measured and vague as to the cause. According to the police, 'Officer Brian D Sicknick passed away due to injuries sustained while on duty.'

It continued, 'Officer Sicknick was responding to the riots on Wednesday, January 6, 2021, at the US Capitol and was injured while physically engaging with protesters. He returned to his division office and collapsed. He was taken to a local hospital where he succumbed to his injuries.'

Yet despite this statement issued on January 7 the following day on January 8 The New York Times were reporting that, '...pro-Trump supporters...overpowered Mr Sicknick, 42, and struck him in the head with a fire extinguisher according to two law enforcement officials. With a bloody gash in his head, Mr Sicknick was rushed to the hospital and placed on life support.'

DailyMail.com has confirmed with Douglas Buchanan, Chief of Communications for DC's Department of Fire and Emergency Medical Services that Sicknick was not 'rushed to hospital' from the Capitol. But did indeed return to his division department as stated.

In fact, the very day that The New York Times account ran, Sicknick's own brother, Ken, spoke with ProPublica and said that his brother had been in good spirits and had texted him after returning to the department.

He said, 'He texted me last night and said, "I got pepper-sprayed twice," and he was in good shape.'

That same day, January 8, Sicknick's father, Charles, 81, told Reuters that on January 7, as they rushed from their homes in New Jersey to DC, the family were told that Sicknick had a blood clot on his brain and had suffered a stroke. He was being kept alive on a ventilator but was dead by the time they got there.
It sure is interesting the way Sicknick's untimely death gave the government just what it needed to take the focus off the brutal execution of Ashli Babbitt.

The police investigators who can't find any evidence Sicknick was killed by Trump supporters may want to change their focus to investigating what happened when he was taken to the hospital.

Follow InformationLiberation on Twitter, Facebook, Gab, Minds, Parler and Telegram.