Polls: Americans Disgusted With U.S. Political Machine & Big Tech - Want Third Party & Regulation
Chris Menahan
InformationLiberation
Feb. 21, 2021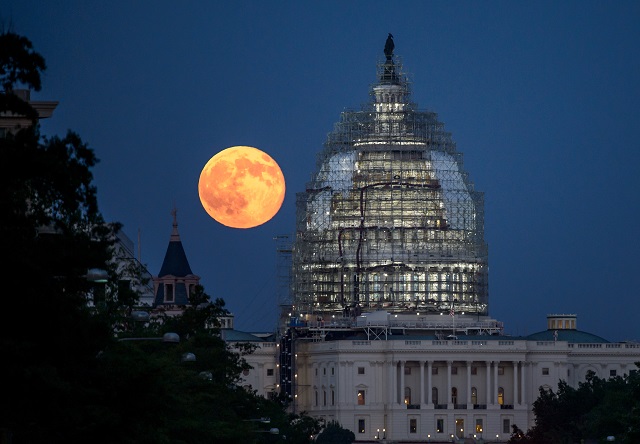 The system is experiencing an unprecedented legitimacy crisis and Big Tech is paying dearly for its embrace of mass censorship, a multitude of polls released over the past two weeks reveal.

From Gallup, "U.S. Satisfaction Sinks With Many Aspects of Public Life":

Not only is average public satisfaction with the broad contours of the country at an extreme low today, but Americans' satisfaction with each element of the index is at or near its lowest since 2001. This reflects declines of seven to 17 percentage points in the past year.

[...] Barely a quarter are now satisfied with how government is working (27%) as well as the size and influence of major corporations (26%).

[...] Republicans' satisfaction with the size and influence of major corporations is down 26 points to a record-low 31% for that party.

Government. Their satisfaction with the system of government and how it's working has declined 24 points to 30%, and their satisfaction with the federal government's size and power is down 15 points to 20%.
Republicans now realize Corporate America is their enemy.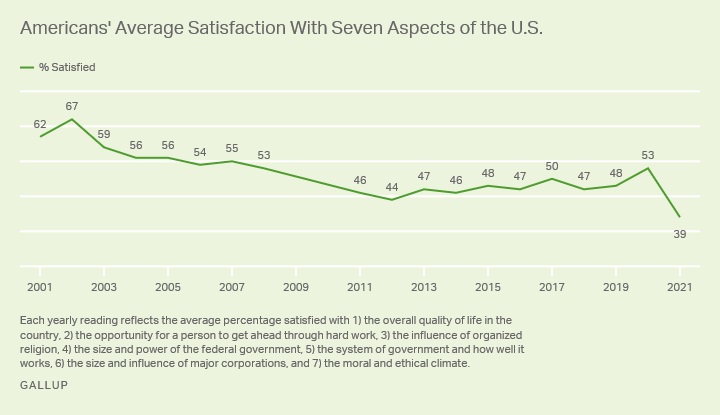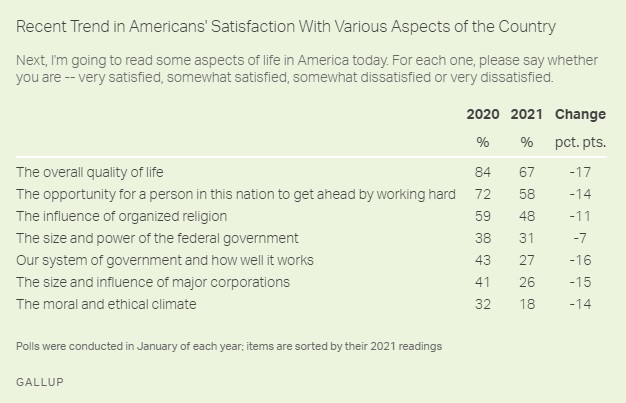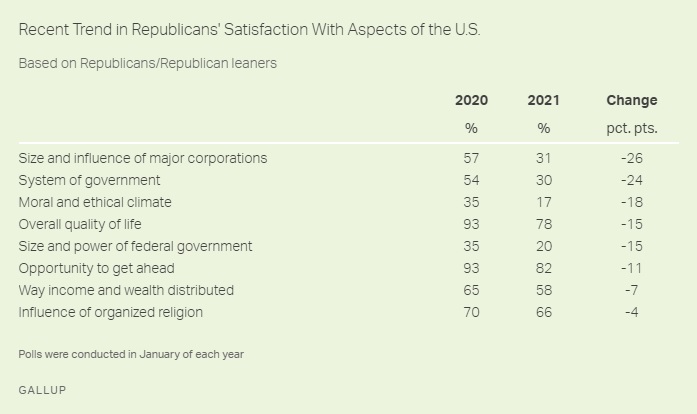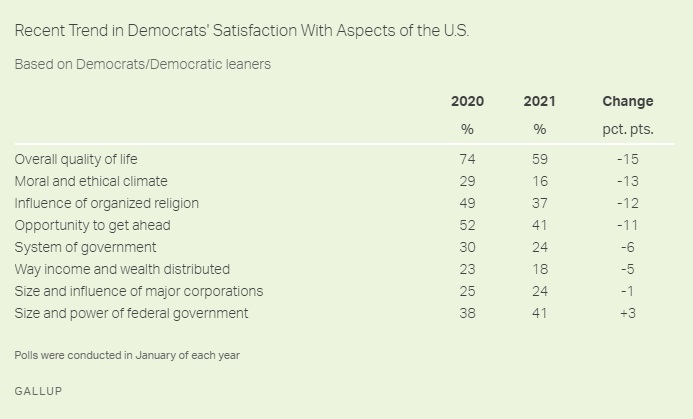 Nearly 100 million Americans support secession.


From Bright Line Watch:

The three regions with coastlines exhibit the most openness to splitting from the union, with the South and West at 33% overall and the Northeast just behind at 32%. The landlocked Heartland and Mountain regions come in at 24% and 28%, respectively.

Support also corresponds with regional partisan context. In the Pacific and Northeast regions, both of which are deep blue and could be expected to be dominated by the Democratic Party (or its post-secession descendants), Democrats favor secession most, followed by independents and Republicans. In the deep red Mountain and Southern regions, that pattern is reversed with Republicans most amenable to secession. In the Heartland, a collection of mostly red states that also includes purple Michigan, Minnesota, and Wisconsin, independents are the group most inclined toward secession.

The unwillingness of respondents to reject secession outright is widespread and context-dependent. Republicans express greater support for secession overall than Democrats, but Democrats are more amenable to secession than are Republicans in regions they dominate.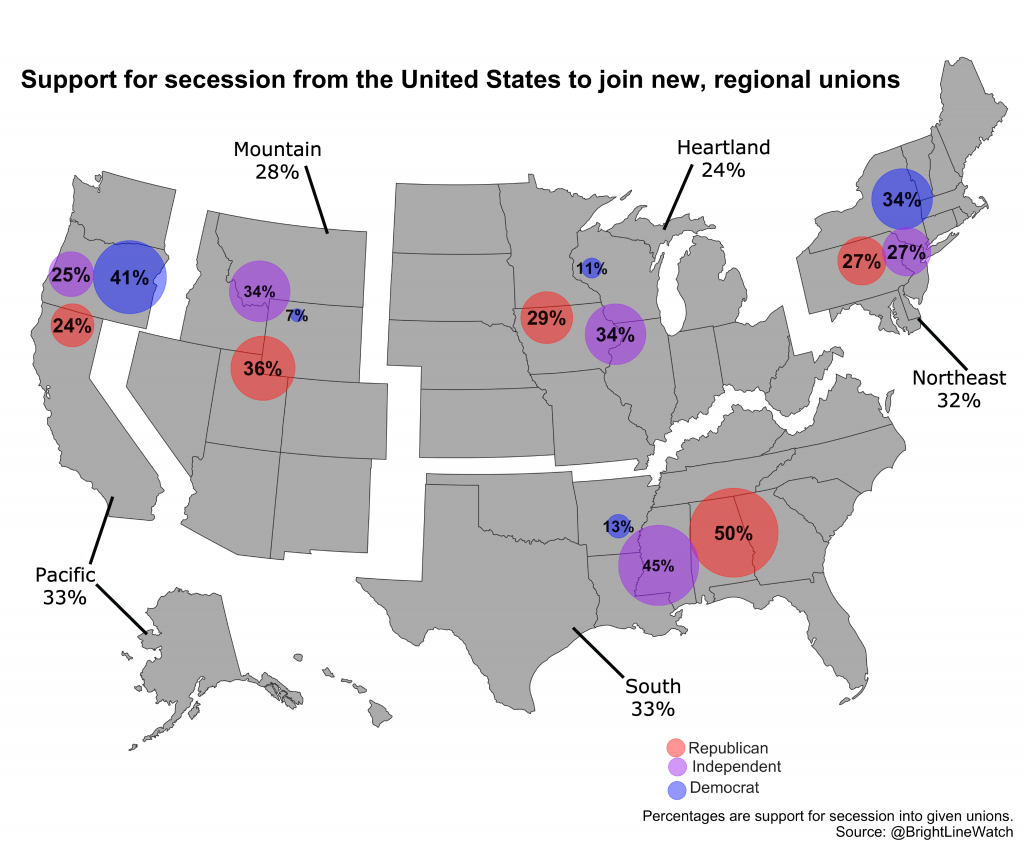 Gallup reported last week that support for a third party is at a record high.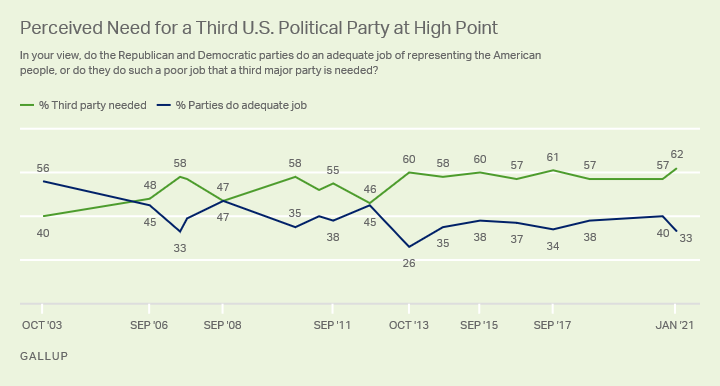 Big Tech went from approval ratings in the 90s to majority opposition in just the past few years: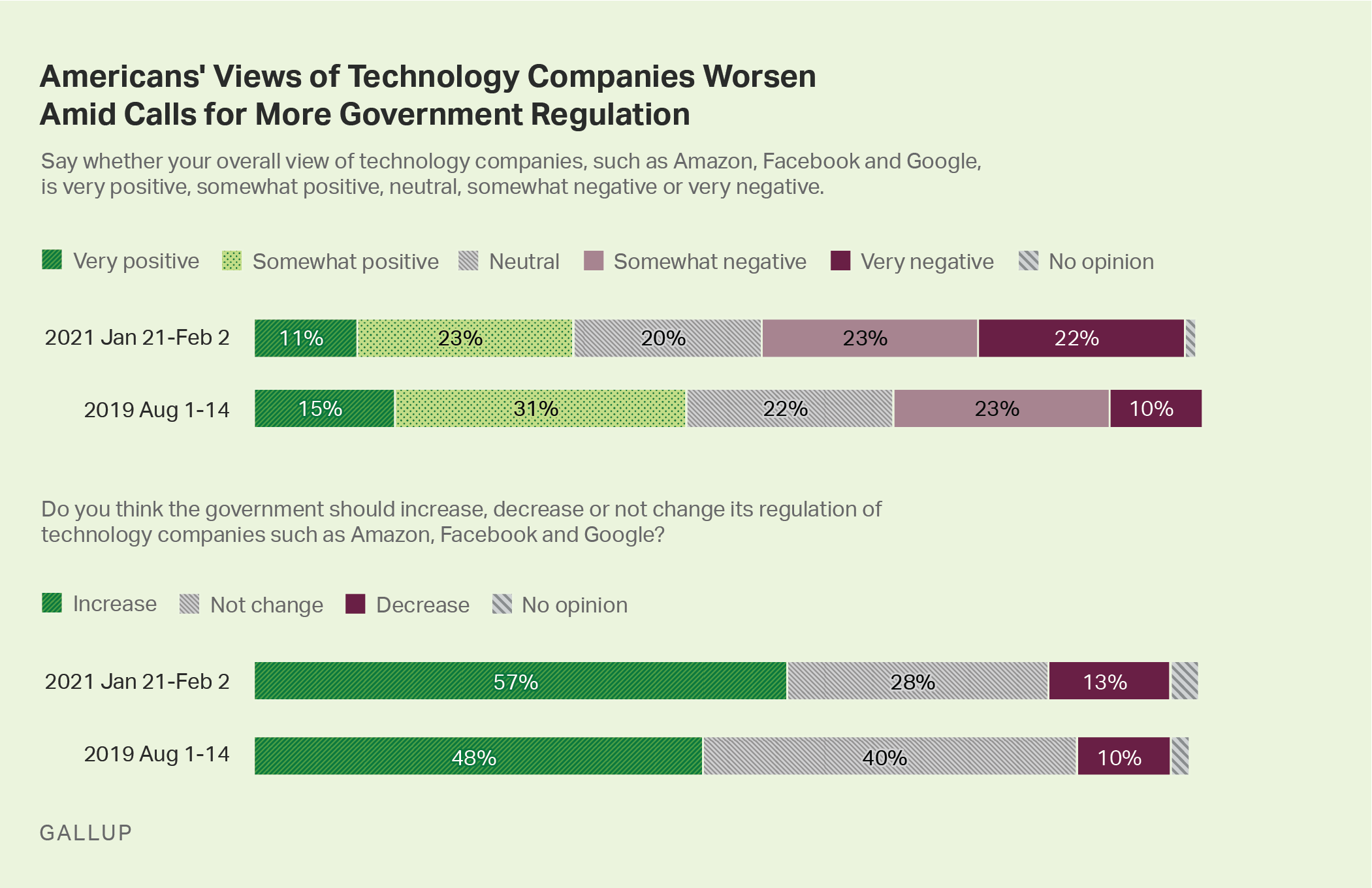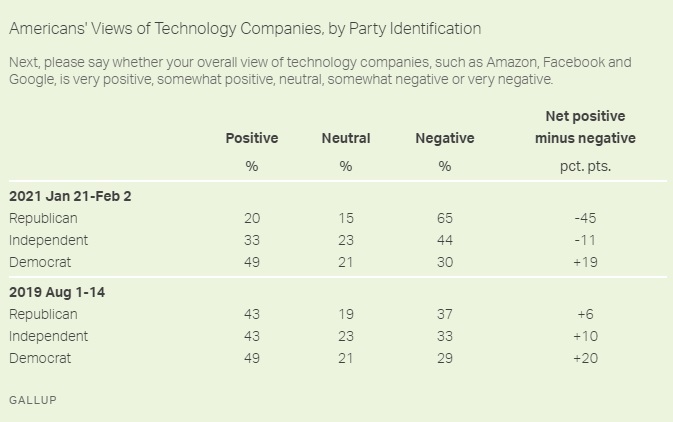 Republicans are now eager to regulate Big Tech: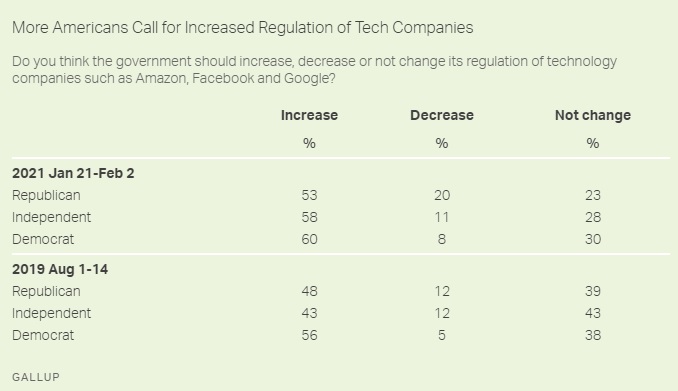 A massive political realignment is taking place.

Labeling everyone "white supremacists" and "domestic terrorists" and banning them from the internet is not working.

That said, they're going to continue doing it anyways as doubling down is all they know.




They're destroying their credibility and becoming naked tyrants -- we just need to stay the course and do our best to survive.

Follow InformationLiberation on Twitter, Facebook, Gab, Minds, Parler and Telegram.