Charges Against Amy Cooper Dropped After Completing Five Sessions Of 'Critical Therapy'
Chris Menahan
InformationLiberation
Feb. 16, 2021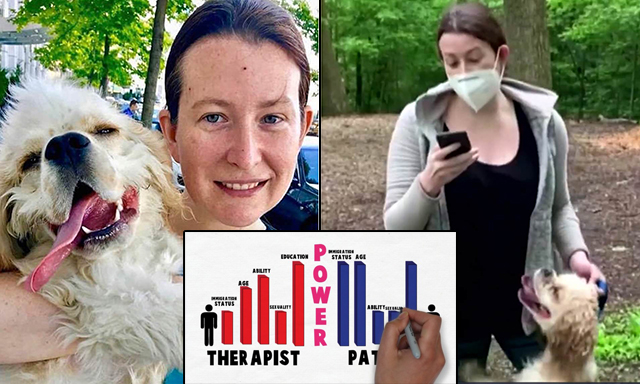 Amy Cooper, the New York woman who was vindictively prosecuted by Manhattan DA Cyrus Vance for calling the police on a black man who threatened her, had the charges against her dropped on Tuesday after she completed five "critical therapy" sessions to re-educate her on her alleged "racial bias."

From CNN:

The Manhattan District Attorney's Office on Tuesday dropped the misdemeanor criminal charge against Amy Cooper, the White woman who called police on a Black man in Central Park last May, after she completed education and therapy classes on racial equity.

"Given the issues at hand and Ms. Cooper's lack of criminal background, we offered her, consistent with our position on many misdemeanor cases involving a first arrest, an alternative, restorative justice resolution; designed not just to punish but to educate and promote community healing," Assistant DA Joan Illuzzi said in court, according to a statement.

The Critical Therapy Center provided classes to Cooper that "focused on the ways in which Ms. Cooper could appreciate that racial identities shape our lives but we cannot use them to harm ourselves or others," Illuzzi said.

"Having completed 5 sessions, Ms. Cooper's therapist reported that it was a moving experience and that Ms. Cooper learned a lot in their sessions together," she added.
Here's a preview of the course she had to take:



Just kidding.

This is a promotional video explaining "critical theory" from the center itself:



In short, it's pretty much the same as the Ashleigh Shackelford video but it looks like they also try to brainwash you into becoming a leftist activist.

Cooper's lawyer, Robert Barnes, thanked the DA's office for dismissing the case and warned that he may sue those who defamed his client.


Barnes may want to start with the New York Times, who claimed that Ms. Cooper "falsely" told police Christian Cooper "had threatened her."


Christian Cooper openly admitted he threatened her right after the incident in a post he made to Facebook.


It will be interesting to see if they leave the lie up for a month before retracting it like they did with the lies they spread about the death of Officer Brian Sicknick.

Though Ms. Cooper no doubt wants to put this incident behind her, it would be interesting to hear about her "lived experience" in having her precious pup taken away from her for a period and then being forced to defend herself from this vindictive witch hunt at the hands of a DA who fought to let Jeffrey Epstein off easy.

Follow InformationLiberation on Twitter, Facebook, Gab, Minds, Parler and Telegram.