New York School Principal Tells White Parents to Become 'White Traitors'
Chris Menahan
InformationLiberation
Feb. 16, 2021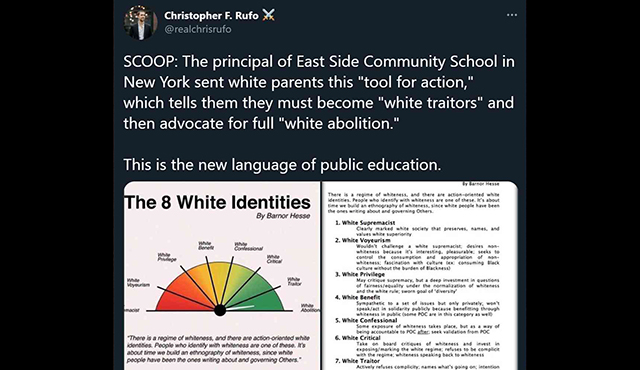 The principal of a New York college prep school sent white parents a "tool for action" telling them to become "white traitors" and advocate for full "white abolition," Christopher Rufo reports.


From The Federalist:

According to race education watchdog Christopher Rufo, white parents of sixth- through 12th-graders received the "tool for action" from the principal of East Side Community School asking them to work toward becoming white traitors and abolitionists by "subverting white authority" as well as "changing institutions, dismantling whiteness, and not allowing whiteness to reassert itself."

[...] The curriculum, authored by Barnor Hesse, an associate professor of African American studies, political science, and sociology at Northwestern University, weaponizes language such as "superiority" and "white regime" to challenge people who operate without fully acknowledging the "burden of Blackness."

"There is a regime of whiteness, and there are action-oriented white identities. People who identify with whiteness are one of these. It's about time we build an ethnography of whiteness, since white people have been the ones writing about and governing Others," the list reads.
The principle appears to be Mark Federman, who along with Hesse has locked his account on Twitter.



Follow InformationLiberation on Twitter, Facebook, Gab, Minds, Parler and Telegram.