Baptist Church Targeted As 'Hate Group' by SPLC Bombed in Los Angeles County
Chris Menahan
InformationLiberation
Jan. 24, 2021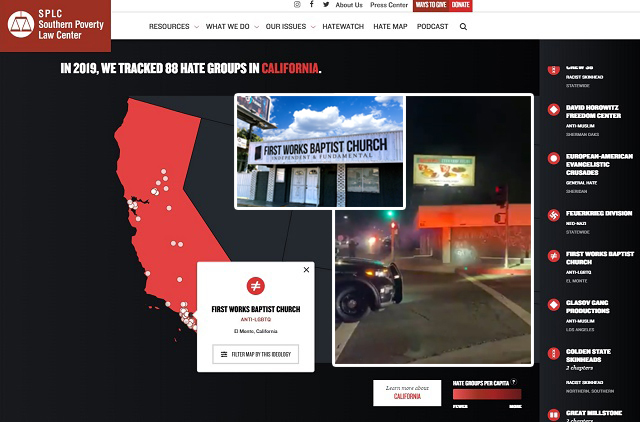 A Baptist Church in Los Angeles County that was smeared as a "hate group" and placed on the Southern Poverty Law Center's "hate map" was bombed with an improvised explosive device on Saturday, according to the FBI.





From The Christian Post, "FBI investigates explosion at California church labeled 'hate group' by SPLC":

The FBI is investigating after an explosive device was thrown at a southern California church on Saturday, weeks after it was threatened with an arson attack over its pastor's views and harsh rhetoric toward the LGBT community.

The bombing, which involved an improvised explosive device, broke the windows of the First Works Baptist Church in the Los Angeles County town of El Monte.

The local news outlet KTLA5 reported that no one was injured but that 14 homes and eight apartments within the vicinity of the church were temporarily evacuated.

[...] FBI spokeswoman Laura Eimiller said that it is too early into the investigation to state if the attack could be considered a "hate crime."

"As to the question of whether this was a hate crime, that's always going to be considered among the theories when a house of worship is attacked," Eimiller said, according to the newspaper. "But it would be premature to confirm any motive at this time, and we are not ruling any other motive out."
The FBI should be looking at whether to label this a domestic terrorist attack, instead they won't even call it a hate crime.


We'll have to wait and see whether the FBI even bothers to get to the bottom of this crime. You can be damn sure FBI Director Chris Wray is not going to send out 15 agents like he did with noose hoaxer Bubba Wallace.
Pastor Bruce Mejia had earlier told police about a threat of arson the church received on social media.

"Some of those within that LGBTQ group caught one of my sermons that are online and they've just been harassing ever since, trying to get me out of El Monte, trying to get me and myself and my church out of El Monte by signing a petition," Mejia said at the time, according to The Press-Telegram.
The SPLC labeled Mejia's Church a "hate group" in June 2019, The Christian Post reported.

Although there is no official word yet on the motive in Saturday's bombing, this is not the first time that a Christian organization listed by the SPLC as a "hate group" has been attacked.

In August 2012, the Washington, D.C. headquarters of the Christian conservative lobbying organization Family Research Council was attacked by a gunman who later told investigators that he chose FRC as a target after visiting the SPLC website. At the time, FRC President Tony Perkins accused SPLC of being "reckless in labeling organizations 'hate' groups because they disagree with them on public policy."
The SPLC's "hate group" list was used by gunman Floyd Lee Corkins to target the Family Research Center for a mass shooting in 2012.



Leftist transgender activists on Twitter can be seen doxing Mejia before the attack and celebrating the bombing afterward.


Pastor Mejia addressed the attack in a sermon on Sunday titled, "The Blessings of Persecution," where he said he's never going to back down.

"They're not going to be able to stop the message of God," Mejia said.

Follow InformationLiberation on Twitter, Facebook, Gab, Minds, Parler and Telegram.