Brazilian Pres. Jair Bolsonaro Warns Vaccine Makers Are Shielded From Liability
Chris Menahan
InformationLiberation
Dec. 20, 2020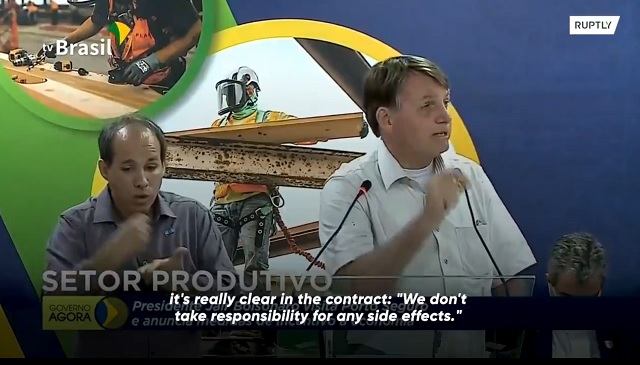 Brazilian President Jair Bolsonaro on Thursday warned that Pfizer is shielded from all liability when it comes to the side effects of their coronavirus vaccine and joked that if it makes you "turn into a crocodile" then "that's your problem."


The media acted like his joke was dead serious (they didn't include video of his comments).

From Business Insider, "Brazil's Jair Bolsonaro bizarrely suggests COVID-19 vaccines could turn people into crocodiles or bearded ladies":

Brazilian President Jair Bolsonaro criticized the Pfizer-BioNTech vaccine in a bizarre rant, on Thursday.

He suggested that the COVID-19 vaccine could result in people turning into crocodiles, women growing beards, and men speaking with effeminate voices, according to AFP.

Bolsonaro said: "In the Pfizer contract, it's very clear. 'We're not responsible for any side effects.' If you turn into a crocodile, that's your problem."

He continued: "If you become superhuman, if a woman starts to grow a beard or if a man starts to speak with an effeminate voice, they [Pfizer] won't have anything to do with it," he said.

Despite launching Brazil's national vaccination rollout on Wednesday, Bolsonaro has insisted that he will not be vaccinated.

He told AFP: "Some people say I'm giving a bad example. But to the imbeciles, to the idiots that say this, I tell them I've already caught the virus, I have the antibodies, so why get vaccinated?"
What are these things you humans call "jokes"?

Follow InformationLiberation on Twitter, Facebook, Gab, Minds and Parler.