Lockdown Lunacy: Nursing Home Staff Stop Daughter From Visiting With Her 97yo Mom Through Glass Window
Staff blow off daughter's warning that her mother's color is fading and her lips are turning blue
Chris Menahan
InformationLiberation
Dec. 07, 2020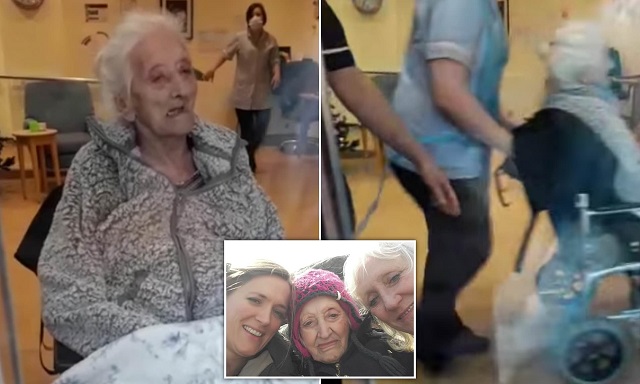 Video out of the UK shows a distraught daughter visiting her 97-year-old mother through a glass window and having her concerns about her mom's deteriorating health blown off by nursing home staffers who shut the blinds on her and wheel her mother away.

WATCH:



MIRROR:


Ylenia Angeli, 73, was detained by police last month on "suspicion of assault" for attempting to rescue her 97-year-old mother Tina Thornborough and "bring her home before lockdown," The Daily Mail reported Monday.



From The Daily Mail:

In a shocking new video posted to Facebook Saturday, a concerned Ylenia told a carer she feared for her mother's health, that her 'lips are blue and her breathing is too fast', but was quickly dismissed and told to 'ring up on Monday' because the carer 'isn't a manager'.

As she continued to express her concerns, the carer spoke over Ylenia and promptly took away her mother and closed the blinds as her daughter begged repeatedly 'hang on a minute don't take her away, don't take her away'.

[...] 'We're still in the same situation,' she said. 'With my grandmother imprisoned in the care home and us not able to get her out. The government guidelines are not sufficient - care homes are still keeping their doors closed.'

[...] Angeli was detained by police in November after forcing her way into the home and removing her mother who she had not hugged for nine months because of the pandemic.

In distressing footage posted online, Angeli was seen being handcuffed and detained in the back of a police car in Market Weighton, East Yorkshire, while her frail mother looked on.
We're living through a dystopian nightmare.


All common sense has been thrown out the window in favor of complete and utter hysteria.

It became clear the "cure" was worse than the disease at least 7 months ago and yet our parasitic ruling class are becoming more hysterical and tyrannical by the day while acting like the situation is worse than ever.

Follow InformationLiberation on Twitter, Facebook, Gab, Minds and Parler.