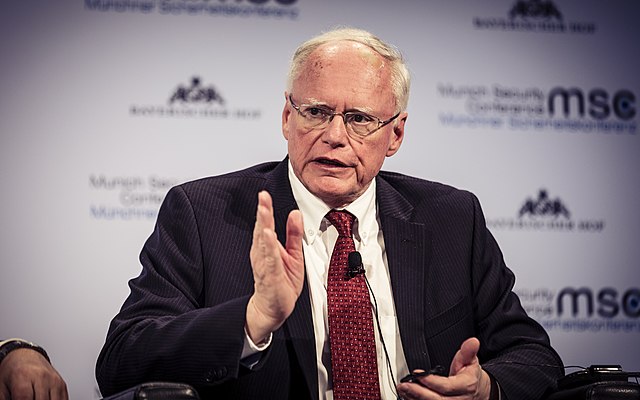 James Jeffrey, a NeverTrumper who was appointed by Mike Pompeo as special envoy for Syria in 2018, is openly bragging about lying to President Trump to preserve the endless war in Syria.

Defense One reported Thursday that Jeffrey told them, "We were always playing shell games to not make clear to our leadership how many troops we had there [in northeast Syria]."

Jeffrey also laughed about thwarting Trump's orders to withdraw from Syria, saying: "What Syria withdrawal? There was never a Syria withdrawal."




From Defense One, "Outgoing Syria Envoy Admits Hiding US Troop Numbers; Praises Trump's Mideast Record":

Four years after signing the now-infamous "Never Trump" letter condemning then-presidential candidate Donald Trump as a danger to America, retiring diplomat Jim Jeffrey is recommending that the incoming Biden administration stick with Trump's foreign policy in the Middle East.

But even as he praises the president's support of what he describes as a successful "realpolitik" approach to the region, he acknowledges that his team routinely misled senior leaders about troop levels in Syria.

"We were always playing shell games to not make clear to our leadership how many troops we had there," Jeffrey said in an interview. The actual number of troops in northeast Syria is "a lot more than" the roughly two hundred troops Trump initially agreed to leave there in 2019.

Trump's abruptly-announced withdrawal of U.S. troops from Syria remains perhaps the single-most controversial foreign policy move during his first years in office, and for Jeffrey, "the most controversial thing in my fifty years in government." The order, first handed down in December 2018, led to the resignation of former Defense Secretary Jim Mattis. It catapulted Jeffrey, then Trump's special envoy for Syria, into the role of special envoy in the counter-ISIS fight when it sparked the protest resignation of his predecessor, Brett McGurk.

For Jeffrey, the incident was far less cut-and-dry — but it is ultimately a success story that ended with U.S. troops still operating in Syria, denying Russian and Syrian territorial gains and preventing ISIS remnants from reconstituting.

In 2018 and again in October of 2019, when Trump repeated the withdrawal order, the president boasted that ISIS was "defeated." But each time, the president was convinced to leave a residual force in Syria and the fight continued.

"What Syria withdrawal? There was never a Syria withdrawal," Jeffrey said. "When the situation in northeast Syria had been fairly stable after we defeated ISIS, [Trump] was inclined to pull out. In each case, we then decided to come up with five better arguments for why we needed to stay. And we succeeded both times. That's the story."
The Washington Post's Liz Sly thought this potentially treasonous act was hilarious.

"US officials have been lying to Trump - and the American people - about the true number of US troops in Syria in order to deter him from withdrawing them, according to the outgoing Syria envoy," Sly wrote Friday on Twitter. "Trump thinks it's 200 [laughing while crying emojis]."


Jeffrey is already advising a potential Biden administration.

Jeffrey said before the election that troop levels in Syria would remain the same regardless of who wins.

Though Jeffrey signed a "Never Trump" letter bashing Trump in 2016, at the same time he praised Biden in a column in Foreign Policy for being "the only one in the Obama administration trying to save" the war in Iraq.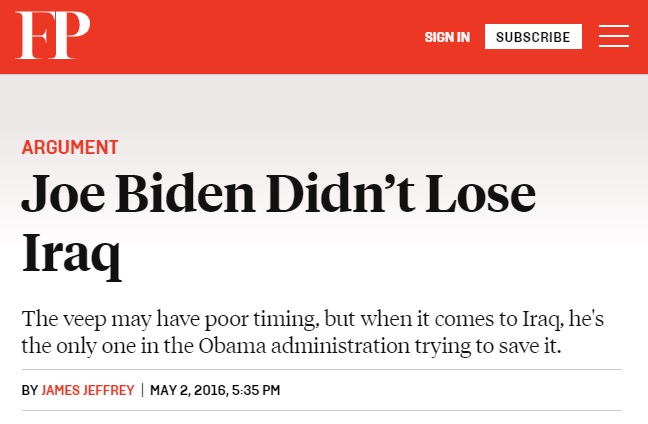 Trump this week fired a host of the Pentagon's top brass and appointed the legendary Col. Douglas Macgregor in an effort to get out troops out once and for all.


It will be interesting to see whether he's successful or whether the deep state undermines him once again.

There seems to be no question that if Biden succeeds in stealing the presidency our (proxy) wars in the Middle East will only expand.


Over the past four years, the media repeatedly claimed the deep state "doesn't exist" -- now they're literally laughing it up about how they've conned our county into endless wars.

UPDATE: CNN's Jim Sciutto joins the party:


Follow InformationLiberation on Twitter, Facebook, Gab and Minds.