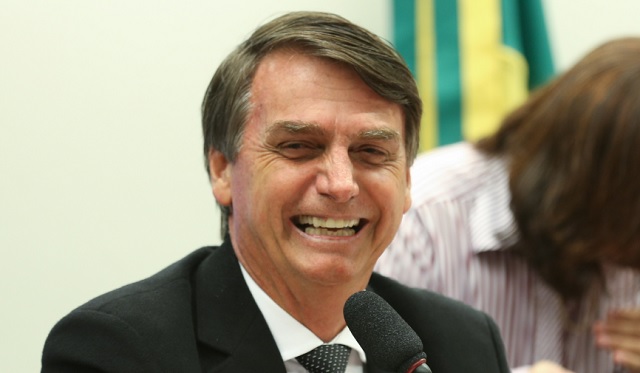 Brazilian President Jair Bolsonaro said Tuesday that Brazilians must not deal with the coronavirus like "a country of sissies."

AFP translated "sissies" as "fags," though that has been disputed:

"All anyone talks about these days is the pandemic. We need to stop that," said Bolsonaro during the speech [...]

"I regret the deaths. I really do. But we're all going to die someday. There's no use fleeing reality. We have to stop being a country of fags.... We have to face up to it and fight. I hate this faggot stuff."

It was the latest in a long list of controversial statements on the pandemic from Bolsonaro, who has condemned the "hysteria" around Covid-19, compared the new coronavirus to a "little flu" and asserted that Brazilians' immune systems were so strong they could swim in raw sewage and "not catch a thing."
WATCH:



Breitbart has more:

Bolsonaro also lamented on Tuesday that the Chinese coronavirus had turned Brazil into "a country of maricas," a term that roughly translates to "sissies" in Portuguese but in other Latin-based languages like Spanish is considered a slur against gay men.

Bolsonaro did not mention Biden in his threat to use "gunpowder" against threatening nations, but his description of the unnamed "candidate to head of state" does not match anyone in any other developing country.

"There was recently a great candidate to head of state who said that if I donít shut down the Amazon fires he is going to put up commercial barriers," Bolsonaro said. "How are we going to face that? Diplomacy alone is not enough. When the saliva runs out, you need gunpowder, otherwise it doesnít work. We have the gunpower. They need to know we have it. That's the world."

"Nobody has what we have in mineral riches, biodiversity, agricultural fields. We have tourism areas, too, itís a fortune," Bolsonaro continued. "We have to strengthen us, and how do we strengthen? Liberating the economy, a free market."

Biden did threaten to destroy the Brazilian economy in September, during a debate with Trump in which the moderator did not ask any questions about international issues or foreign policy.

"Brazil, the rainforests of Brazil are being torn down, are being ripped down. More carbon is absorbed in that rainforest than every bit of carbon thatís emitted in the United States," Biden said at the time. "Instead of doing something about that, I would be gathering up and making sure we had the countries of the world coming up with $20 billion, and say, 'Here's $20 billion. Stop, stop tearing down the forest. And if you donít, then youíre going to have significant economic consequences.'"

Biden appeared to be repeating claims spread by Hollywood celebrities and leftist groups that the annual fires in the Amazon Rainforest had worsened under Bolsonaro. In August 2019, Agence France-Presse (AFP) revealed that a photo influencers and celebrities, including French President Emmanuel Macron, were sharing on social media to condemn Bolsonaro for the allegedly devastating fires was taken by a photographer who died in 2003, so the photo could not have been from Bolsonaro's term in office, which began in 2019.
Bolsonaro has also refused media demands that he prematurely recognize Joe Biden as president-elect.


Bolsonaro himself, despite being stabbed in the stomach and nearly dying in 2018, survived coronavirus in August after taking hydroxychloroquine and has seen his popularity surge over the past year.

Follow InformationLiberation on Twitter, Facebook, Gab and Minds.