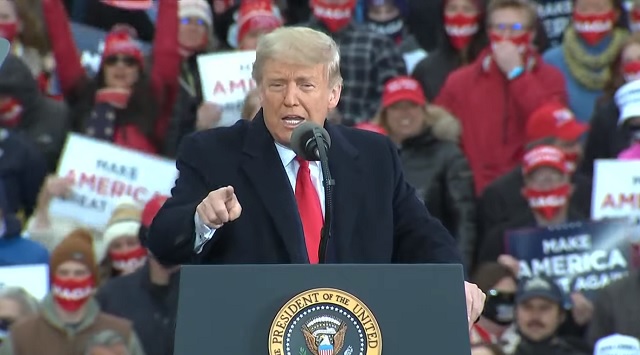 President Donald Trump's speech in Michigan on Saturday railing against the evils of critical race theory and cancel culture and detailing the radical left's plan "to erase American history" and "cancel our entire heritage" is being hailed as the best rally speech he has given since 2016.

WATCH:



(Fox News had the best audio but Right Side Broadcasting captured his epic entrance which I embedded below.)



Excerpts:

I'd like to speak with you today about one of the most vital issues in this race. You know what it is? It's the radical left's plan to erase American history, purge American values, and destroy the American way of life, and that's what they're trying to do. You see it every day. That's what they're trying to do. We're not going to let that happen.

This election will decide whether we preserve our magnificent heritage or whether we allow far left radicals to wipe it all away. [...]

This election day, the people of Michigan must stop these anti-American radicals by issuing Joe Biden and his group a thundering defeat at the ballot box. [...]

One of the most sinister weapons of the extreme left culture is a thing called cancel or cancel culture. They want to cancel our entire heritage. If you do not repeat each and every one of their lies, you will be banned, censored by big tech titans. It's what they do. They harassed. They expel. They fire you from your job or deny the chance to earn a living. Here in Michigan, a teacher was fired for tweeting that Trump is our president. She got fired. [...]

But you know, we got a lot of people that like that. We like that person a lot. Whoever you are, we love you and we'll be there for you. We'll be there for you. [...]

In Ohio, a high school football player was suspended for displaying a flag honoring our great police. [...]

When the Philadelphia Inquirer published a piece saying that rioters shouldn't destroy buildings, that was the end of that journalist. I mean, can you believe it? These are not the tactics of a respectable political movement. This is the behavior of fascists and as bad as you can get. The point of cancel culture is not to convince you, it's to humiliate you, and break you, and control you. But the American people will never submit, we will never apologize, and we will not be controlled, and never be broken. [...]

The most divisive and insidious strategy of the Marxists, and the Democrat socialists, and communists [...] is their crusade against American history. [...] They falsely and constantly smear America as a sinister and racist country that must be torn apart piece by piece. [...] We're not tearing anything apart. We're here today and you know the truth. America is the most magnificent, most virtuous nation that has ever existed. The most!
"This is the best rally speech Trump has given since 2016," Ann Coulter tweeted.


I couldn't agree more!


Trump went on to hold a second rally just a few hours later in Wisconsin:



"Joe Biden is the living embodiment of the corrupt political class that enriched itself while draining the economic life and soul from our Country," Trump tweeted late Sunday night.

"For the last 47 years, Joe Biden shipped away your jobs, shut down your factories, threw open your borders, and ravaged our cities while sacrificing American blood and treasure in endless foreign wars," Trump said.

"Joe Biden is a corrupt politician — and the Biden family is a criminal enterprise. This makes Crooked Hillary Clinton look like amateur hour!"



Follow InformationLiberation on Twitter, Facebook, Gab and Minds.