After Partnering With ADL, PlayStation Releases Update to Spy On Users' Voice Chat For 'Violations'
Chris Menahan
InformationLiberation
Oct. 15, 2020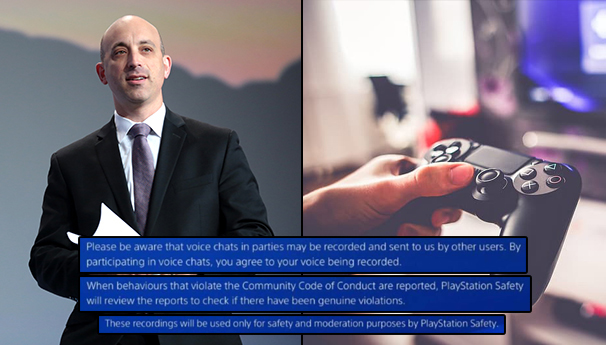 PlayStation's latest update allows users to snitch on fellow players by recording their voice chat so they can be punished for speech "violations."

The move comes just a few months after PlayStation partnered with the Anti-Defamation League -- a leftist group which advocates for online censorship and hate speech laws in the name of stopping "the defamation of the Jewish people" -- to pressure Mark Zuckerberg to ramp up censorship on Facebook.

(Zuckerberg dutifully complied by banning all content which depicts "Jewish people running the world or controlling major institutions such as media networks, the economy or the government" as well as all Holocaust denial and Q-Anon conspiracy theory accounts.)



From The Verge, "Sony will let PS5 owners record their voice chats and snitch on fellow players":

Some PlayStation 4 users who downloaded the latest 8.0 update got an unwelcome surprise this morning: their console informed them that Sony had the right to record their voice for moderation purposes.


Initially, the update's release notes contained no mention of voice recordings. But at some point today, Sony clarified what the messages meant in an update to its official blog post.

Here is Sony's exact language:

Following this update, users are seeing a notification about Party Safety and that voice chats in parties may be recorded. Voice chat recording for moderation is a feature that will be available on PS5 when it launches, and will enable users to record their voice chats on PS5 and submit them for moderation review. The pop up you're seeing on PS4 right now is to let you know that when you participate in a chat with a PS5 user (post-launch), they may submit those recordings from their PS5 console to SIE.

To translate that statement, it seems that by joining a voice chat, even with the older PlayStation 4, your voice can be recorded and submitted to Sony for moderation by another user. This could certainly be invasive — in theory, anything you say in a voice chat could be sent to Sony without your explicit consent. But the feature could also be a useful tool to help people report bad party members that may be harassing them.
The Post Millennial reported earlier this month that EA had partnered with the ADL to "enforce social justice in gaming."


Follow InformationLiberation on Twitter, Facebook, Gab and Minds.