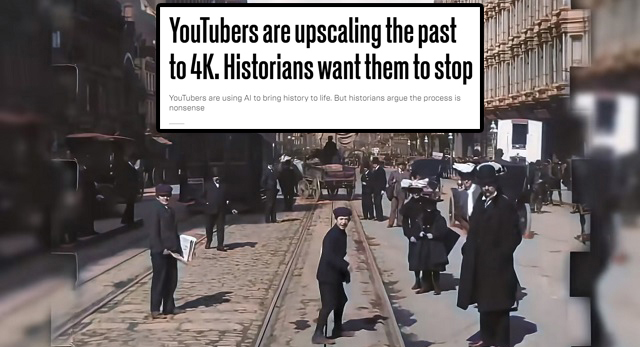 The Cultural Revolutionaries are angry that folks are producing and watching upscaled and colorized old footage of America and Europe and realizing what could have been.

From WIRED, "YouTubers are upscaling the past to 4K. Historians want them to stop":

The first time you see Denis Shiryaev's videos, they feel pretty miraculous. You can walk through New York as it was in 1911, or ride on Wuppertal's flying train at the turn of the 20th century, or witness the birth of the moving image in a Leeds garden in 1888.

Shiryaev's YouTube channel is a showcase for his company Neural Love, based in Gdansk, Poland, which uses a combination of neural networks and algorithms to overhaul historic images. Some of the very earliest surviving film has been cleaned, unscuffed, repaired, colourised, stabilised, corrected to 60 frames per second and upscaled to vivid 4K resolution.
For viewers, it almost feels like time travel. "That is something that our clients and even the commenters on YouTube have pointed out consistently," says Elizabeth Peck, one of Shiryaev's colleagues at Neural Love. "It brings you more into that real-life feeling of, 'I'm here watching someone do this', whereas before you're looking more at something more artistic or cinematic."

But these vivid videos and images haven't wowed everyone. Digital upscalers and the millions who've watched their work on YouTube say they're making the past relatable for viewers in 2020, but for some historians of art and image-making, modernising century-old archives brings a host of problems. Even adding colour to black and white photographs is hotly contested.

"The problem with colourisation is it leads people to just think about photographs as a kind of uncomplicated window onto the past, and that's not what photographs are," says Emily Mark-FitzGerald, Associate Professor at University College Dublin's School of Art History and Cultural Policy.
Readers will no doubt be shocked to learn Mark-FitzGerald is an obese feminist.


I suspect the real issue is they don't like people seeing how civilized our societies used to be.



They want us to believe "America was never great."

They want us to believe our ancestors were evil and our country was an oppressive hellscape.

A few seconds of video exposes the entire fake history they've fed us as a lie.



People were happy, healthy, respectful, modest, moral and beautiful.

The streets were safe and society was orderly.

The myth of "progress" we've been sold is a total lie.


We have to go back.

Follow InformationLiberation on Twitter, Facebook and Gab.