'Say I Apologize to The Black Queen!' Black Panther Group Filmed Terrorizing Small Businesses in VA
Chris Menahan
InformationLiberation
Sep. 15, 2020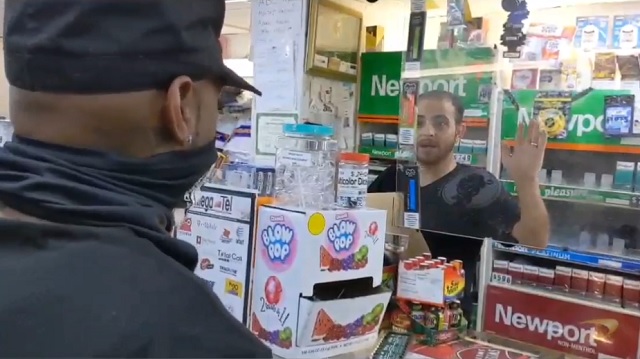 A Black nationalist group has filmed themselves terrorizing small businesses in Portsmouth, Virginia over the past several weeks -- seemingly without any repercussions.

"The Original Black Panthers Of VA" just recently filmed themselves terrorizing the Church Food Mart in Portsmouth and demanding an immigrant employee "apologize" to a "Black queen" for allegedly pulling a gun on her.

Video of the incident was proudly shared on September 5 by Black Panthers leader "Mike Pain" on Facebook and racked up nearly 300,000 views:



The video description reads:

General Mike Pain and The Original Black Panthers Of VA got a call that a now ex-employee of Church Food Mart in Portsmouth pulled a gun on a Queen from our community and called her a Monkey Bitch! Watch what happens, WE DONT PLAY BOUT OUR PEOPLE!

#weshutshitdown
Darryl King Rick Farmer II
Dr-Malik Zulu Shabazz
The video was highlighted Tuesday morning on Twitter by the popular user Kitty Shackleford, who noted that the shop employee appeared to be "ordered seemingly at gunpoint (offscreen) to stay where he is" and put his arms up "in response."


The employee is heard protesting the allegations against him but is clearly too afraid to push back against the intimidating mob.

The Original Black Panthers Of VA pulled a similar stunt at Paradise Pizzas in Portsmouth in another video posted on August 1:



"So this account has *tons* of videos of this group ... harassing and intimidating local businesses and residents for 'disrespecting the black community' - this one is a Pizza shop. Chants of 'no justice no peace' & promising that they will be back," Shackleford, who found the video, noted.

Shackleford shared another video from "Mike Pain" intimidating a local landlord for disrespecting a "Queen" by not letting her put a fence up.



This is what Black Lives Matter are talking about when they say they want "community policing."

As a reminder, Facebook last year announced they were banning all White nationalist groups as well as any "praise, support and representation of White nationalism and separatism" but said Black nationalist groups are just fine.

Thousands of popular conservatives from Alex Jones to Paul Joseph Watson and Gavin McInnes have been banned from Facebook for their political views but Black Panther groups are allowed to spread Black Power propaganda and terrorize small businesses without any repercussions!

Follow InformationLiberation on Twitter, Facebook and Gab.