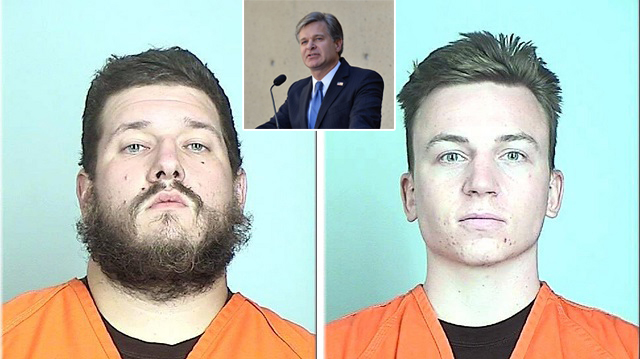 The FBI and the DOJ entrapped two low-IQ "Boogaloo Bois" in a cockamamie scheme to send arms to what they were told was Hamas, attack monuments and attack white supremacists, politicians, police and the media.

The "plot" is so stupid and all over the place the feds should really be facing charges for abusing two mentally disabled people. Instead, as they clearly designed this plot to maximize charges against these two, both are individually facing up to two decades in prison.

This is the exact same scheme the government used to regularly carry out with Muslims as the target to advance the neocon agenda in the Middle East but now it's being done to further the narrative "white supremacists" are secretly behind the violence at all the hundreds of Black Lives Matter riots throughout the country.

From CBS News, "2 members of far-right group Boogaloo Bois charged with attempting to support Hamas":

Two self-described members of the far-right group Boogaloo Bois have been charged with attempting to conspire and become "assets" for Hamas, the Justice Department said on Friday. Hamas is designated by the U.S. as a terrorist organization, and the Boogaloo Bois is a loosely-connected group of far-right individuals who espouse a violent, anti-government ideology.

Michael Robert Solomon, 30, and Benjamin Ryan Teeter, 22, were taken into custody Thursday evening and made their first court appearance in Minneapolis on Friday.

"Michael Solomon and Benjamin Teeter proclaim themselves to be members of the Boogaloo Bois, a group that espouses a violent ideology and an objective to overthrow the government. The defendants believed their anti-U.S. government views aligned with those of Hamas, a foreign terrorist organization, and actively developed plans to carry out violence in Minnesota and elsewhere," U.S. Attorney Erica H. MacDonald said in a statement.

According to the Justice Department, Solomon and Teeter were part of a subgroup of the Boogaloo Bois known as the Boojahideen that wants to overthrow the government and replace the police. The pair were two of the first charged under a new task force created in June by Attorney General William Barr to deal with anti-government extremism.

The Justice Department said the FBI initiated the investigation into Solomon and Teeter during protests in Minneapolis after George Floyd's death.
What a shocker.


CBS continues:

Authorities said a witness said Solomon was openly carrying a firearm in a residential area of Minneapolis, and that witness interacted with Solomon and Teeter over the next few days.

The witness told the FBI agents that Solomon and Teeter possessed firearms and substantial quantities of ammunition and that Solomon, Teeter, and other members of the Boogaloo Bois discussed committing acts of violence against police officers and other targets, the Justice Department said.

The FBI received information in early June about Solomon, Teeter and other members of the Boogaloo Bois and Boojahideen through a confidential source who the defendants believed was a member of Hamas, the complaint said. Solomon and Teeter allegedly said their views lined up with Hamas, and offered themselves as "mercenaries" to generate cash and other funding for Hamas.
Yeah, apparently Hamas is all about the Boogaloo, toppling monuments, attacking white supremacists in North Carolina, politicians and media outlets...
According to the complaint, Solomon and Teeter told the source and another individual they believed to be a member of Hamas, but who was really an FBI agent, about their alleged idea of destroying government monuments, raiding the headquarters of a White supremacist organization in North Carolina and targeting politicians and the media.

Solomon and Teeter also allegedly said they could manufacture unmarked parts for guns, creating untraceable and unregistered weapons. On July 30, they allegedly delivered five suppressors and expressed their desire to manufacture additional suppressors and fully-automatic weapons for Hamas. They allegedly tried to negotiate a price for five more suppressors.

On Saturday, Hamas stressed they had no link to the Boogaloo Bois and accused the U.S. government of trying to discredit the government.
If these charges are to be believed, these guys are so stupid they walked into literally every trap the FBI laid out for them.

As I said before, the feds should be charged for abusing two mentally disabled people.

UPDATE: Newsweek is reporting Teeter was a self-described "left anarchist," not "far-right" as the media has reported:

In an interview with CNN in June, Teeter described how he made the trip to Minneapolis from his home in North Carolina with the aim of protecting protesters from police abuse and white supremacists during unrest in the wake of the killing of George Floyd.

Teeter said he was a non-voting "left anarchist" and a member of the LGBT community, adding, "people think I'm part of a Nazi group—I'm not."

"If people are going to initiate deadly force against us, we need to be willing and able to initiate deadly force in return," he said.

"We are very careful to make sure that people realize that we are on their side. We are here to defend them... Once people realize that we are on their side and we are here to protect them, everybody has been—almost everybody—has been very happy to have us here," he told CNN.
Follow InformationLiberation on Twitter, Facebook and Gab.