'F**k White People!' BLM Mob Scream At Elderly Diners, Steal Their Drink & Attack White Man in Pittsburgh
Chris Menahan
InformationLiberation
Sep. 07, 2020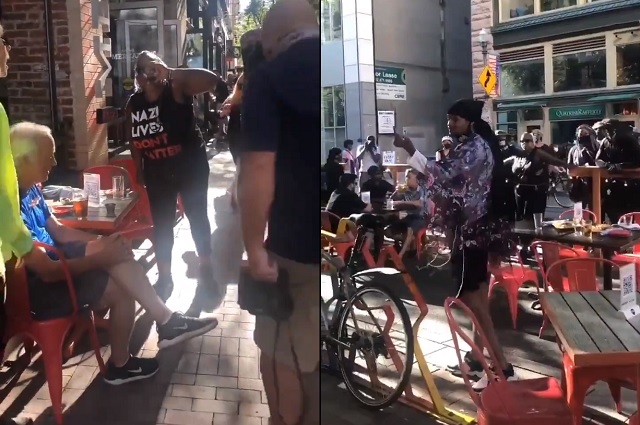 Black Lives Matter rioters on Sunday were filmed screaming "f**k white people" and "f**k the police" at an elderly white couple dining outside at a restaurant in Pittsburgh and then assaulting a white man in the street.

Video shows an African-American agitator screaming "f**k 12" and "f**k white people" at a white couple before giving them the finger.

An African-American woman of size in a "Nazi Lives Don't Matter" shirt then approaches their table, steals one of their drinks (which looks to be a beer) and downs it as the couple reacts in shock.

"F**k 12" the first agitator shouts as he slams a table, breaking a glass in the process.


Another video from the same riot shows the mob attacking a white guy walking with a bicycle, first slamming a megaphone in his face then bashing him with a skateboard after he swatted the man's megaphone away.

Police were nowhere to be seen.



All the assailants could be easily identified if the District Attorney wanted to pursue charges but it's a Democratic s-hole so odds are they'll look to charge the white bicyclist for defending himself.

The mob continued harassing people deep into the night (EPILEPSY WARNING):



HT: The Gateway Pundit

Follow InformationLiberation on Twitter, Facebook and Gab.