Chicago: Mass Looting And Rioting Breaks Out After Black Gunman Wounded by Police
Chris Menahan
InformationLiberation
Aug. 10, 2020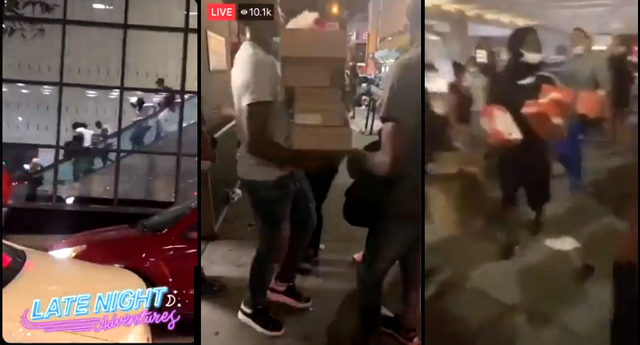 Mass looting and rioting broke out in Chicago on Sunday night after a reportedly armed black suspect in his "late teens or early 20s" was wounded in a shootout with police in Englewood.

Any excuse to loot will do.


Witnesses described seeing "hundreds" of cars driving around the city hitting up high-end store after high-end store to loot.



Rioters tried to hit police with their cars:


A cop was hit in the face with a giant object to cheers.


There were shots fired:



Looters lived-streamed on social media:



How does this fit with the media's narrative that black people are "terrified" that police will shoot them at any moment for any reason without the slightest provocation?


Do any of these folks look "terrified" that police are going to shoot them at any moment just for the "crime" of "being black"?






Rioters were seen egging each other on to attack police.



Do any of these folks look like they're grieving over someone being shot?






This is the gun police say was dropped by the shooter in Englewood.


Justice for #WhatsHisName!

UPDATE: Rioters were filmed smashing an Audi sedan into an upscale store to loot it.






Some of the aftermath:


UPDATE II:



RELATED: Latrell Allen: Meet The 20-Yr-Old Gangbanger Whose 'Shootout With Police' Triggered Mass Looting In Chicago

Follow InformationLiberation on Twitter, Facebook, Gab and Minds.