Tucker: Robin DiAngelo's 'White Fragility' is 'Poisonous Garbage,' Says All Whites Are 'Racist'
Chris Menahan
InformationLiberation
Jun. 25, 2020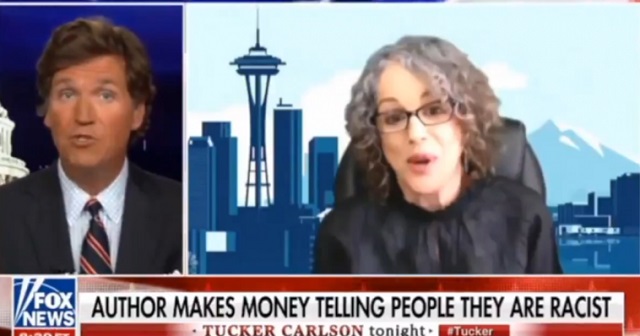 Tucker Carlson blasphemes the left's new religion.


From The Daily Caller:

After pointing out that [Robin DiAngelo's "White Fragility"] is likely to become required reading for students and even employees at business retreats, Carlson used four words to sum up its contents: "White people are racist."

"Not just racist white people," Carlson said. "All white people. Whether they're six years old or 100 years old, all of them are by definition racist. They are racist because they are white. Only white people are racist. No one else is."

Carlson described DiAngelo as a "professional anti-racist educator" who "shuttles between schools and boardrooms telling people that their DNA makes them evil."

[...] "But Robin DiAngelo isn't really trying to convince anyone," he said. "The real point of her book is to defeat and demoralize you. DiAngelo claims that everything you really want — everything that people of every color really want, in every society in the world — is a sign of white racism. Want to live in a safe neighborhood? You're a racist for that. Want to send your kids to a decent school? You're a racist for that. All of your dreams are racism. The only way to atone for this racism is to give up those dreams and abandon your aspirations and make sure your family lives a much worse life. For white people, DiAngelo writes, quote, 'discomfort is necessary and important.'"
DiAngelo also attacked Bernie Bros:



Cambridge academics are openly saying "white lives don't matter" and getting rewarded with full professorships for it as our controlled media is trying convince people "white racism" is an epidemic because of microaggressions.


Statues are being torn down all over the country and spray-painted with "KILL WHITEY" and "KILL ALL COLONIZERS."


The FBI sent 15 agents to investigate a door rope to protect Bubba Wallace's feelings but we're the "fragile" ones!

Follow InformationLiberation on Twitter, Facebook, Gab and Minds.