Seattle Police Chief Tells Citizens to Call 911 If They Hear 'Racist Name-Calling'
Chris Menahan
InformationLiberation
Apr. 02, 2020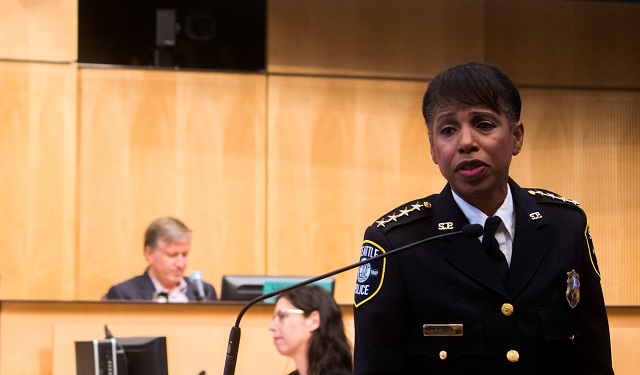 While America is experiencing one of the most crippling pandemics in a century, Seattle Police Chief Carmen Best is encouraging citizens to "please call 911" if they hear "racist" name-calling.


From Reason, "Seattle Police Chief Tells People To Call 911 If They Hear 'Racist Name-Calling'":

Seattle's top cop may want to get her priorities straightened out. In the midst of the global COVID-19 pandemic, Police Chief Carmen Best used her most recent "chief's brief" update on the coronavirus crisis to urge residents to dial 911 if they are the victims of racist name-calling.

It's a time-wasting imperative—and one that's at odds with the First Amendment.

In her briefing, Best called upon the expertise of a former local news anchor, Lori Matsukawa.

"Hate crimes have no place in our community," said Matsukawa. "We are all trying to deal with the COVID-19 public health crisis together. If you are a victim of a hate crime or hate-based harassment, please call 911."

"We will document and investigate every reported hate crime," Best continued. "Even racist name-calling should be reported to police. If you aren't sure if a hate crime occurred, call 911. We are here to help."
If you thought 911 was just for emergencies, you were wrong.

911 is there to walk people through whether being called a "racist" name is a "hate crime" or not!

Perhaps next our 911 operators should be trained to respond to crimes in accordance with the "progressive stack" -- i.e. respond to cases from black, brown, trans, non-binary and latinx bodies first while placing straight, heteronormative, cis white males on hold to make them "check their privilege"!

Follow InformationLiberation on Twitter, Facebook, Gab and Minds.