As Coronavirus Spreads, UK Schools Told to Fear Outbreak of Anti-Chinese 'Xenophobia'
Chris Menahan
InformationLiberation
Jan. 27, 2020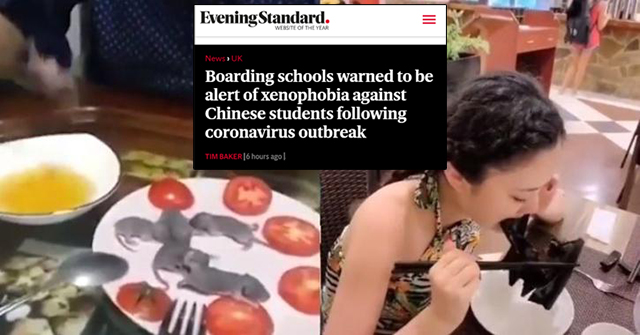 The world may be on the brink of a global pandemic caused by the people of Wuhan eating exotic animals like bats and snakes but the top priority of the UK Boarding Schools' Association is apparently the possibility Chinese students in UK schools may face "xenophobia."

From the Evening Standard, "Boarding schools warned to be alert of xenophobia against Chinese students following coronavirus outbreak":

The coronavirus outbreak has triggered a warning to be wary of xenophobia to be issued across boarding schools in the UK.

The Boarding Schools' Association issued new instructions that its members should be watchful for prejudice against Chinese pupils by others, be it online or in person.

[...] And it also counsels schools to, "stay alert for any signs of xenophobia by students towards one another, or by any external audiences, either in school or on social media sites".

"Such behaviour should not be tolerated and action should be taken against anyone acting in this way," it adds.

On the issue of xenophobia, A BSA spokesperson said: "We have not heard of anything happening in our schools, and we don't envisage it happening in our schools, we are trying to make sure we are covering every eventuality."
What does it say about the West that our "authorities" appear to be more concerned with stopping the spread of "xenophobia" than stopping the spread of a global pandemic which could kill millions?



RELATED: Ontario School Board: Asking Chinese Families Who Traveled to China to Self-Quarantine Is 'Anti-Chinese Racism'

Follow InformationLiberation on Twitter, Facebook, Gab and Minds.