Goldman Sachs Unveils Plan to Actively Discriminate Against White Men
Chris Menahan
InformationLiberation
Jan. 24, 2020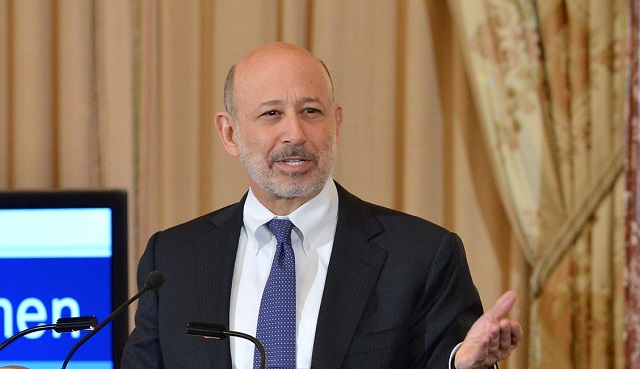 This is what systemic racism looks like.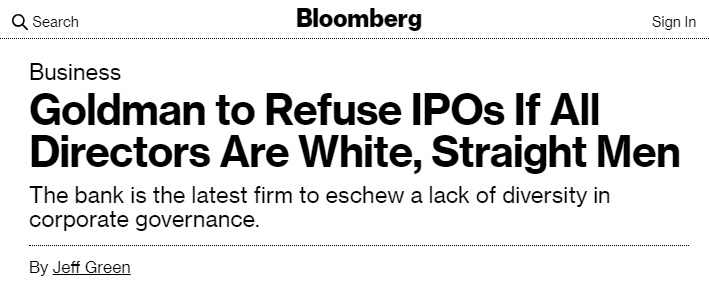 From Bloomberg (Archive), "Goldman to Refuse IPOs If All Directors Are White, Straight Men":

The era of the white, all-male board is coming to an end.

Goldman Sachs Group Inc. Chief Executive Officer David Solomon issued the latest ultimatum Thursday from Davos. Wall Street's biggest underwriter of initial public offerings in the U.S. will no longer do business with a company lacking a director who is either female or diverse.

The mandate is the latest in a series of signals that non-diverse boards and management are unacceptable. BlackRock Inc. and State Street Global Advisors are voting against directors at companies without a female director. Public companies with all-male boards based in California now face a $100,000 fine under a new state law.
WATCH:



A second article from Bloomberg revealed the policy will not apply to Asia or the Middle East (i.e. Israel and Saudi Arabia):

[T]he rule applies only to IPOs in the U.S. and Europe. Asia's exclusion is striking, given how common all-male boards are in the region. Other bastions of male dominance, including Latin America and the Middle East, also went unmentioned.
Mr. Solomon and Mr. Blankfein's discriminatory policy is only for white, European men.

Follow InformationLiberation on Twitter, Facebook, Gab and Minds.