Iranian Media Release First Video Showing Alleged 'Revenge Attack' On US Airbase in Iraq
Chris Menahan
InformationLiberation
Jan. 07, 2020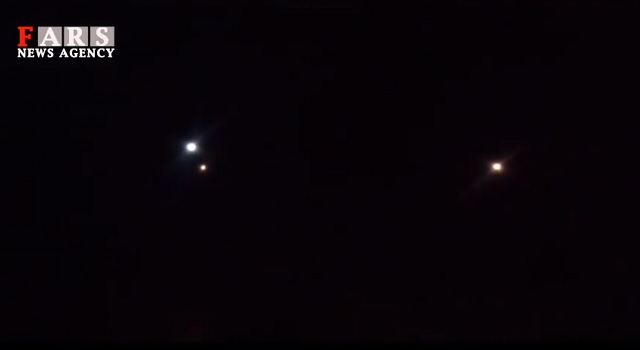 The attack was reportedly launched at 1:20 AM to align with the time of the US airstrike which killed Iranian General Qassem Soleimani.



"Praying our missile defense systems worked well. Days notice, (mostly) known targets, (mostly) known launch sites (many miles away), tens (not hundreds) of missiles. If they didn't work in this scenario, when would they ever work?" Rep. Thomas Massie said after hearing of the attack.


A second round of missile strikes targeted multiple American installations across Iraq:



There have been no official reports of casualties thus far.


UPDATE: Looks like we're going to war.



UPDATE II:


UPDATE III: War called off for now?


UPDATE IV: Seems like the best case scenario just occurred. There was allegedly no US casualties and Iran get to have their face saving measure (they're claiming they injured 30 US troops but that could definitely just be a lie).




UPDATE V: The star of the night...


UPDATE VI:



UPDATE VII: A Boeing 737 passenger plane carrying some 168 people headed for Ukraine crashed with no survivors in Tehran under highly suspicious circumstances.


"The Ukrainian foreign ministry later revealed there were 82 Iranians, 63 Canadians and three Britons on flight PS752, along with 11 Ukrainians, 10 Swedes, four Afghans and four Germans," The Daily Mail reported.




Speculation is running wild with some questioning whether it was shot down by anti-air defenses in Iran and others questioning whether it was shot down by the US.



RT is reporting that an Iranian airport official is blaming an "engine fire":

A Ukrainian Boeing 737-800 had suffered an engine malfunction before it went down a few minutes after taking off from Tehran's Imam Khomeini airport, its official has said.

The engine caught fire when the plane was airborne, Ali Khashani, a senior public relations official at Iran's major airport, was quoted by local media. The fatal engine failure purportedly saw the jet hitting the ground between the cities of Sharhiar and Parand early in the morning on Wednesday.

The airliner, operated by Ukraine International Airlines (UIA), carried 168 passengers and nine crew, most of whom were Iranians, according to Reza Jafarzadeh, a spokesman for Iran's Civil Aviation Organization.
There was also a very strange earthquake:



While the official story so far is that it was a natural occurrence some are speculating it may have been an Iranian nuclear bomb test (though there has been no evidence Iran has been developing nukes for years) or even some sort of newfangled tectonic weapon attack.

Follow InformationLiberation on Twitter, Facebook, Gab and Minds.