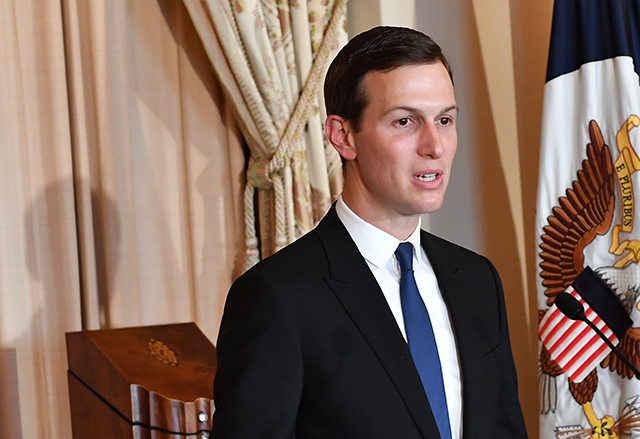 President Trump has reportedly put Jared Kushner in charge of "overseeing the construction of the border wall," even though Kushner allegedly drew Trump's ire after he botched criminal justice reform.


From The Hill, "Trump puts Kushner in charge of overseeing border wall construction: report":

President Trump has put his son-in-law, Jared Kushner, in charge of overseeing the construction of the border wall, The Washington Post reported Monday.

Current and former administration officials told the Post that Kushner has taken the lead on the wall construction project, holding biweekly meetings covering the progress of the wall, contractor data, the location of the wall and how funding is being used.

Kushner is reportedly pressuring U.S. Customs and Border Protection and the U.S. Army Corps of Engineers to speed up the process of obtaining private land along the U.S.-Mexico border to build the wall.

The president's son-in-law is reportedly pushing to get 450 miles of barriers along the border finished before the 2020 election. Officials told the Post that more than 800 filings to seize private property need to be made to make that happen.
In other Kushner news, Vanity Fair reported Sunday that now-disgraced former WeWork CEO Adam Neumann helped Kushner craft his Middle East peace plan.


From Vanity Fair, "'You Don't Bring Bad News to the Cult Leader': Inside the Fall of WeWork":

Last summer, some WeWork executives were shocked to discover Neumann was working on Jared Kushner's Mideast peace effort. According to two sources, Neumann assigned WeWork's director of development, Roni Bahar, to hire an advertising firm to produce a slick video for Kushner that would showcase what an economically transformed West Bank and Gaza would look like. (Bahar told me he only advised on the video and no WeWork resources were used.) Kushner showed a version of the video during his speech at the White House's peace conference in Bahrain last summer.
BuzzFeed News reporter Ryan Mac said this appears to be the video:


More from Vanity Fair:

Until a few years ago, the Neumanns were devout followers of Kabbalah, the Jewish mystical faith, and it infused WeWork's office culture. One employee said key meetings were often scheduled for the 18th of the month because 18 is a sacred number in Kabbalah's 32 paths to wisdom. Adam encouraged senior WeWork executives to participate in weekly study sessions with his spiritual adviser at the time, Rabbi Eitan Yardeni. "It was a lot about finding your inner peace and purpose," an executive who attended the meetings recalled.

[...] Neumann told colleagues that he was saving the women of Saudi Arabia by working with Crown Prince Mohammed bin Salman to offer women coding classes, according to a source. In another meeting, Neumann said three people were going to save the world: bin Salman, Jared Kushner, and Neumann. Shortly after the news broke in October 2018 that Saudi agents tortured dissident and Washington Post columnist Jamal Khashoggi and carved his body with a bone saw, likely on order from the crown prince himself, Neumann told George W. Bush's former national security adviser Stephen Hadley that everything could be worked out if bin Salman had the right mentor. Confused, Hadley asked who that person might be, according to a source familiar with the meeting. Neumann paused for a moment and said: "Me."

Rebekah Neumann shared her husband's fervor that WeWork was a movement. "From the second I met Adam there was an energy between us that felt like it was larger than just the two of us," she told the style website Coveteur. They married in 2008, the year Green Desk launched, and she took on the role of WeWork's raven-haired five-foot-nine first lady. "I'm responsible for all of the messaging, the mission, the values, and, most importantly staying true to the DNA and mission of what we initially set out to do at WeWork," she told Coveteur. She held several titles, including chief brand and impact officer, and cofounder.

[...] Crossing Rebekah had consequences. SoulCycle cofounder Julie Rice, who'd been recruited to WeWork in 2017 to become the company's chief brand officer, quit in part because Rebekah decided upon returning from maternity leave that she wanted Rice's title and took it, sources said. (A source close to Rebekah said that Rebekah, as a WeWork cofounder, had always had that title.) Last year, Rebekah fired a mechanic for WeWork's Gulfstream, two executives told me, because she didn't like his energy.
Kushner's so-called "Deal of the Century" is allegedly a giant screw job for the Palestinians which closer resembles an "offer you can't refuse."



I guess we'll have to wait and see whether Kushner treats us like the Palestinians or the Israelis!

Follow InformationLiberation on Twitter, Facebook, Gab and Minds.