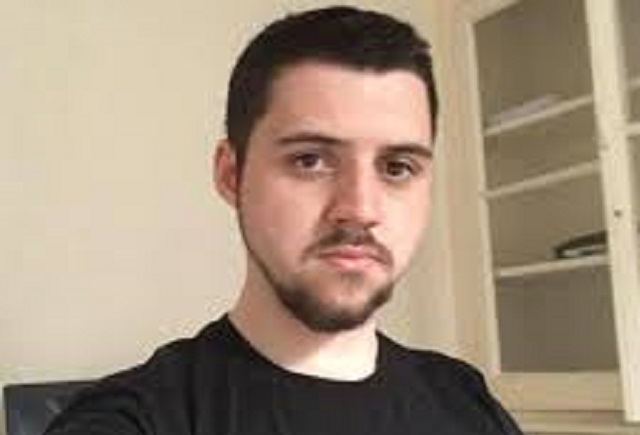 A 22-year-old British man is facing multiple years in prison for ranting on Facebook that Muslims should be "wiped off the face of the earth" in the wake of a series of deadly terrorist attacks in his country in 2017.

The man insisted he was only talking about "extremists and terrorists" according to reports but a jury found him guilty of "inciting religious hatred" nonetheless.

From The Daily Mail, "Student, 22, faces jail after calling for Muslims to be 'wiped off the face of the earth' in Facebook video rant":

A student faces jail after he called for Muslims to be 'wiped off the face of the earth' in a vile 17-minute Facebook rant.

Louis Duxbury issued the 'call to arms' during the tirade made shortly after a series of terrorist attacks in 2017.

A social media user at York St John University, where Duxbury was an undergraduate, saw the post and reported it to the police.

Giving evidence at his trial last week, Duxbury, 22, claimed he was exercising his right to free speech.

However, a jury at York Crown Court yesterday found him guilty of inciting religious hatred after deliberating for only half an hour.

[...] The court heard Duxbury was first reported to police about his far right views as a 15-year-old schoolboy in 2015.

Teachers reported him for an inflammatory anti-Islam comment he posted online following the murder of Fusilier Rigby, it was heard.
In 2017 there was the Westminster car-ramming/stabbing attack where 52-year-old jihadist Khalid Masood injured around 50 people and killed 5, the Manchester Arena bombing where jihadist Salman Abedi injured 800 and killed 22, and the 2017 London Bridge car-ramming/stabbing attack where jihadists Khuram Shazad Butt, Rachid Redouane and Youssef Zaghba injured 48 and killed 8.

Mr. Duxbury is going to be thrown in prison because those jihadist massacres made him very angry.

According to the government and media, the proper response to seeing your fellow countrymen dismembered by foreign terrorists is to sing "Don't Look Back in Anger" and "Turn to Love" as the nice Muslims rushed onto the TV are telling you to do.


You can go on Al Jazeera and other Muslim news outlets in the wake of terrorist attacks and see their pages flooded with comments and various laughing emojis praising the attackers.


Incidentally, I'm reminded of a viral photo which circulated in the wake of the Notre Dame fire which showed what appeared to be two Muslim men smiling as the Cathedral burned behind them.


Politifact claimed the photo was fake and had so-called "experts" from the National Center for Media Forensics insist "the two front persons" were photoshopped in.

The photo was later proven to be entirely legit and Polifact was forced to issue a retraction.

It's been some three and half years since the British people voted for Brexit to end the insanity of mass immigration and yet the government hasn't done anything to follow through. Meanwhile, they have no problem throwing people in prison for "offensive or insulting comments!"


UPDATE: Mr. Duxbury released the following statement to Information Liberation on Sunday night with more details on the case:

Convicted for criticising terrorism in the UK

On November 19th 2019, a jury only took half an hour to convict me with 'intent to incite religious hatred' despite a black lawyer and both Asian and Muslim defence witnesses contesting both the accusations of having any such intent and being a racist. After a series of mistrials, hung juries and appeals by the Crown Prosecution to continue retrying charges in a 3-year long battle, they finally got the guilty verdict they desired.

In June 2017 on the day of the Westminster terrorist attack, I was unable to establish any contact with my former girlfriend who was in London and near West Minster celebrating her birthday when the attack took place. Fearing the worst and panicking after trying to call and text with no response for a full day, I turned to Facebook to express absolute devastation, and grief of having lost someone I loved. The video I made specifically stated that "they (the terrorists, supremacists and extremists) should be wiped from the face of the earth". This statement was twisted and distorted by the prosecution to mean all Muslims which would paradoxically include my Muslim and Asian friends who came to my defense. Little did I know, a student at the university where I was studying, was conspiring to maliciously use this lament against me. Later that month, on the 21st of June the counter-terrorism police-force raided my house and arrested me without charge, then released me after they were unable to find anything, they could charge me for.

The following year (2018) was filled with multiple trials, fraudulent and fabricated evidence, knowingly breaching article 3 and 6 of the Human Rights act all in effort to convict me through slander, name calling, labels and by dictating to me what my own thoughts, and intents were at the time. This was despite my own thoughts being clearly reiterated in the video showing grief and devastation for what happened. It was also despite witnesses of different ethnic backgrounds coming to the defence of my character and a black lawyer who volunteered to take my case. It was the prosecution who stated "you cannot use freedom of speech as a defence and we do not have freedom of expression in this country" to a supporting jury who apathetically convicted me in less than half an hour.

The university took my arrest as grounds for confirmation of wrongdoing, supposedly justifying my dismissal from the sports medicine program I had spent two years pursuing. As the medical profession is a government job, I will likely never be able to work in that field as a convicted man. It was ironic that my friends who just so happened to be white, then distanced themselves from me, while my friends who were of different ethnicities passionately came to my defense.

I am facing many years behind bars for mere criticism of the state and terrorism in general as my character and life have been utterly destroyed with very little hope of being able to overturn this decision. They have tainted my past, will put my present behind bars, and taken my future away from me. Where is the justice in this?

Louis Duxbury
Follow InformationLiberation on Twitter, Facebook, Gab and Minds.